Australians bet on everything and the many land-based casino venues available to us around the country means there are plenty of options for playing roulette. This page details the current gambling regulations and laws in our country for all punters to better understand the legal gambling age and which land-based casino venues are safe and legal to play at.
Australian gambling laws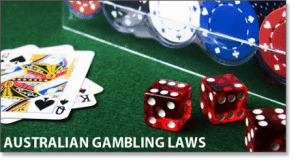 The Australian and state governments regulate real money gambling and use this form of entertainment as a major economical and tourism draw-card. Melbourne, Victoria owns the largest land-based casino in the Southern hemisphere, Crown Casino, with the entire entertainment complex occupying an area of 510,000 squared metres, making it also one of the largest casinos in the world.
Casinos around our country are all governed by their respective state gaming regulatory bodies (discussed below), but the legal gambling age limit is fixed to 18 across the entire continent. While there is a want to keep gambling as an enjoyable and clean form of entertainment, there is always the potential for illicit and dangerous betting, so governmental laws are enforced in order to attempt to restrain the negative side-effects of this activity.
Below are the links to each Australian state and territory's gaming regulatory body:
What about online gambling?
In Australia, online gambling is covered under the laws of the Interactive Gambling Act 2001 (IGA). While the original wording of the IGA banned online casino operators from operating within our borders or from advertising services to Australian players, the laws were filled will all kinds of loopholes that allowed offshore casino sites to continue to service the Australian market. In September 2017, those loopholes were closed with the introduction of the Interactive Gambling Amendment Bill, which was implemented to ban offshore gambling sites from offering their services to Australian players unless they have an Australian-issued license to do so.
The technicality here is there is nothing in the IGA amendments that punishes Australian players who continue to frequent offshore casino sites. With many foreign casinos choosing to continue to service the Australian market, there are still choices available to Aussie residents who want to play online, with the risk completely on the operator. It's important to note that licensed online casinos must adhere to strict rules and regulations set by their country of jurisdiction, including adhering to minimum gambling age requirements. All Australians who choose to play at online casinos must be at least 18 years of age, regardless of where the casino is located.
Read more about Australia's online gambling laws.
Why 18?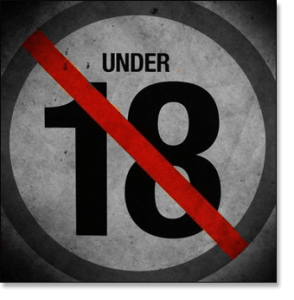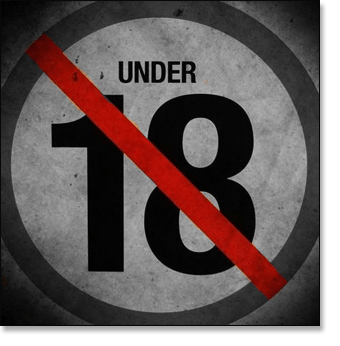 Across Australia, the age at which you can start to legally gamble on any form of real money betting, including lotteries, bingo halls, sport and race betting, and casino betting, is 18.
In America, the legal gambling age is dependent on what state you reside in, with states setting the age restriction level at 18, 19 or 21.
In Britain, the age limit is also set at 18, although exceptions do exist for national lotteries and scratch-cards, where those who are 16 or older can partake in such betting.
Australia is consistent with it's laws and rules relating to activities and actions considered to be adult-based, such as drinking alcohol, gambling, voting and being prosecuted by the law – actions which are widely accepted to have the need to be regulated based on age. A 15-year-old teenager's brain is much less developed than that of a 23-year-old, as is his/her maturity level, social awareness, and many other important factors; and so this has an immediate effect on the decisions the teenager is prone to make.
In regards to the age of criminal responsibility across Australia, from 14 years to 18 years of age (17 in Victoria), those who commit a crime may be held fully responsible for their actions, but are prosecuted under a different set a criminal sanctions than an individual over 18 who commits the same offence – the 14 to 17-year-old (or 18) is still treated as a child/juvenile (information gathered from the Australian Institute of Criminology). This is one of the most difficult areas of criminal justice – deciding when an individual should be regarded as a fully responsible adult – and it subsequently has vast effects on other areas of the law, such as gambling.
Penalties of under-age gambling
One of the main reasons behind the enforcement of gambling laws is to protect children from obsessive gambling and becoming addicted. Back in 2007, Britain allowed children of any age to play five-pound slot machines games, and still allow individuals 16 years and over to buy lottery tickets, scratch-cards and partake the football pools. It was found in an expert study (by David Cameron) that three-and-a-half per cent of British children aged between 11 to 15 (around 100,000 children at the time) were considered 'problem gamblers'.
In Australia, it is considered a criminal offence for anyone under 18 to partake in real money gambling, and individuals under that age bracket caught engaging in such activities can be prosecuted accordingly – they may be subject to fines and court-ordered measures like care and control, supervision and assessment orders.
Gambling in a positive light
When people mention the word gambling, it is often thought of with negative connotations; however it doesn't have to be. Gambling should be considered an enjoyable form of entertainment once you are legally allowed to do so. Obviously, maintaining a suitable bankroll limit and knowing when to stop is imperative, and if we ever find we are no longer enjoying gambling, this is a good indicator to stop. There are multiple government-owned gambling help services, such as Problem Gambling Victoria if we feel we are no longer in control of our actions.
Games like roulette, blackjack and poker are thoroughly enjoyable, and when cash is on the line, it often makes it all that more exciting.