Leaked documents have revealed The Star casino did not report two thirds of crime incidents which occurred at the venue this year.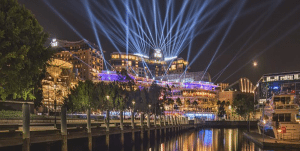 An internal government review, leaked from the Department of Justice, revealed the number of violent incidents which occurred at the Sydney establishment in 2016 was three time higher than reported in monthly reviews passed onto both casino executives and the State Government.
Officials found 111 violent incidents to have taken place within a six month time frame, from March to August 2016, and 75 were not called into police. Some of these unreported incidents included a fight between five people, a patron suffering a broken leg in the Marquee nightclub within the complex, and a security guard head butting a customer.
The officials concluded the biggest concern is the impact the lack of reporting to police, despite the severity of the incident, has on the data collected by the NSW Bureau of Crime Statistics and Research (BOCSAR).
It's been reported the highest level of violence – 32 per cent – occurred between 3am and 7am, when Sydney bars and clubs are forced to shut due to lockout laws.
The Pyrmont venue is located outside the lockout law zone as declared by the NSW Government, and is also exempt from the last drink laws and the three strikes scheme which was developed in order to stop alcohol-related assaults.
NSW independent MP for Sydney, Alex Greenwich, said in a statement to the Australian Associated Press, the report shows a misplacement of violence, instead of a reduction.
"My constituents in Pyrmont indicated to me that on Friday and Saturday night, there's a slew of people arriving in the area that weren't there prior to the lockout," he said.
"There is obviously a major lapse in judgment from Star's side and that needs to be rectified immediately with a full investigation and an increased police presence."
A spokesman for The Star responded stating the findings are inaccurate due to a misunderstanding of the incident reporting process.
"The report fails to address that NSW Police had an on-site presence at The Star between February and September 2015," the statement read.
"That on-site presence was subsequently removed.
"If police had any concerns, it is inconceivable that those resources would have been withdrawn."
Our take: Questions were raised when the former premier, Barry O'Farrell, and the current premier, Mike Baird have appeared to give the casino special treatment in relation to the lockout laws. Only time would result in this treatment to be reviewed and these findings may have serious ramifications on whether it will remain exempt from the laws.