Darwin's SkyCity Casino is the only land based casino in Darwin and one of two land based casinos in the Northern Territory (with the Alice Springs Casino being the other one). The casino venue underwent a major 30 million dollar renovation back in 2008 that has since helped to substantially increase local, interstate and foreign visitors, driving up tourism and revenue.
Darwin SkyCity Casino overview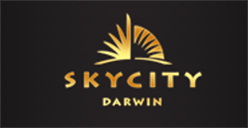 Darwin Casino was opened in 1983 and has changed hands several times. It was called the Mindil Beach Casino from 1983 through to 1985, the Diamond Beach Hotel and Casino from 1985 through to 1995, the MGM Grand Darwin from 1995 through to 2004 and finally the SkyCity Casino from 2004 to the present day.
The casino is located on Gilruth Avenue in Mindil Beach, The Gardens and in one of the main attractions in Darwin. It is open 24 hours a day and seven days a week throughout the year, and boasts more than 750 poker gaming machines that offer sizeable progressive jackpots and great payouts.
Table games at SkyCity
There are more than 30 table games across the main floor, keno gaming facilities and TAB betting facilities. The table games at SkyCity Darwin Casino include:
Roulette
Rapid roulette
Blackjack
Baccarat
Poker against the dealer games, like Caribbean Stud
The Money Wheel (similar to the Big Wheel at Crown Casino)
Table games on the main gaming floor are open from midday and the main floor closes at 4am Thursday to Sunday, and 6am Friday and Saturday. Video poker is also available to play on the main floor.
The venue also boasts a luxury, five star beachfront resort with 154 guest rooms that all include the following amenities: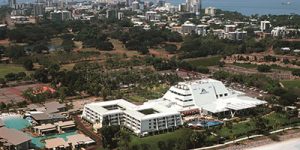 A private balcony
Complimentary Wi-Fi
Robes and slippers
Guest laundry services
A mini bar
Multiple LCD TVs
There is also a day spa, VIP gaming suites and a 700 square metre conference and function room. There are also several stylish restaurants inside the SkyCity complex and multiple classy bars (including a sports bar). The entire SkyCity entertainment complex is situated on 30 acres of beautiful, tropical gardens.
Roulette gaming at the Darwin's casino
On the main gaming floor you will find several roulette table, both American (double zero) and European (single zero) formats. Table betting minimum limits range from $1 to $5.
There are also rapid roulette terminals – electronic roulette gaming machines that are connected to a live feed of an actual roulette wheel. The wheel is spun automatically every 30 seconds, and you are presented with the live display of the wheel and a digital representation of the betting layout, where you can easily place your desired wagers.
A countdown clock is displayed so you know how much time you have to bet before the next spin. Play the game by feeding cash into the terminal, and your winnings are automatically credited onto your screen. When finished, you can print out a voucher of your credits to exchange for money at the cashier window.
Rapid roulette offers the single zero variant of the game, more privacy and lower betting limits.
Getting to the SkyCity Darwin Casino
SkyCity Darwin is located right on the Mindil Beach beachfront, off Gilruth Avenue – approximately three kilometres from the heart of the city. From the centre of the city, you can walk (roughly 30 minutes), catch public transport (tram or bus, about 15 minutes and 20 minutes respectively) or drive (about eight minutes). Trams and buses terminate right out front of the casino.
From the Darwin International Airport, the casino is approximately 10 kilometres away. It is approximately a one hour and 10 minute connecting bus and tram ride and a 15 minute drive via car (a taxi will cost you around $30). The walk from the airport to the casino will take you about two hours and 15 minutes, if you are up for it.
Official contact details of SkyCity Darwin:
Phone: +61 8 8943 8888
Toll free: +61 8 0089 1118
Website: www.skycitydarwin.com.au
Email: [email protected]
Darwin's casino is the only gambling venue in the city that holds a table gaming licence, allowing it to operate favourite titles such as roulette, blackjack, poker and baccarat. To find out more about the casino, its games, rules and other player benefits, check out the SkyCity Darwin Casino website.
The SkyCity Entertainment Group also owns casinos in New Zealand (Auckland, Hamilton and Queenstown) and the Adelaide Casino. The company employs more than 3500 people across New Zealand and Australian.
Visitors to Darwin's casino must be 18 years or older to legally enter. Keen on enjoying some roulette at Darwin's SkyCity Casino? We always recommend playing the European, single zero variant.