Many VIP players mistakenly believe they won't be able to find table limits for online roulette as high as they can at land-based casinos. Because of this, they're missing out on a huge range of rewards only available via online casinos and an array of unique high limit roulette variants.
Recommended online roulette casinos
Casino
Bonus
Games
Pokies
Signup
[/rm_geo_hide
We take a look at where you can find high maximum table limits for online roulette and why it may just be better than the land-based alternative.
Land-based VIP roulette vs online high roller games
Land-based high roller table limits vary all over the world. For example, Australian casinos, specifically Melbourne's Crown Casino offers roulette table limits from $50,000 – $75,000, but these can vary from casino to casino.
Players can find some incredibly high limit betting maximums at top online casinos, such as the many we recommend with limits as high as $500,000 – but this only applies for special tables, which we will discuss further below. Online variants also offer the ability to play from home and experience a huge range of favourable rules, all the while still reaping the rewards of a VIP.
For both land-based and online roulette tables, the limits are generally expressed as the overall total eligible to be wagered in one round. So, while the maximum limit is $75,000, you may not be able to put 75 grand on an even money bet, for example, in online roulette or land-based tables.
What are the highest limits available on online VIP roulette?
There are two categories roulette falls to when it comes to the online gaming environment – Random Number Generator (RNG) roulette and live dealer roulette.
RNG online roulette offers reasonably high table limits. The maximum for many high limit RNG roulette tables is around $5000, such as NetEnt's High Limit French Roulette, available to play for free or real money at Guts Casino.
Live dealer roulette offers higher table limits and has real dealers set up in studios or casinos and streamed in real time directly to your device. Playing at these tables is incredibly similar to going to a land-based casino and placing your wagers on the table layout – but you do this electronically, and you're in the comfort of your own home.
There's a variety of live dealer software providers which all offer live roulette, but only some offer high limits for high rollers, which we detail below.
Evolution Gaming high roller limits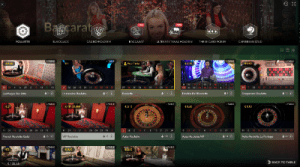 The live dealer lobby by Evolution Gaming provides a huge range of live roulette games with the highest possible limits for standard players set at $20,000. This is found on the Live Dealer Roulette VIP table and features a chat function and standard European rules.
However, you don't have to settle for these limits – if you contact the web casino and tell them you're planning on being a VIP you can gain access to exclusive tables by Evolution Gaming. These tables have maximum betting limits of up to $500,000 and are still managed by real dealers in real time.
Extreme Gaming live dealer roulette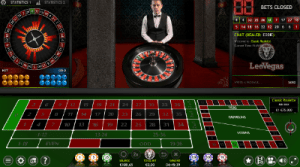 Extreme Gaming has only been around for a few years but the provider offers a huge range of live dealer roulette categories with incredibly high table limits. The best part, which land-based casinos can't offer, is there's a huge range of unique variants. The unique titles each offer a nice maximum limit of $75,000 and include Classic Roulette, Golden Ball Roulette, Sizzling Hot Roulette, Lucky Lady's Roulette, Dolphin's Pearl Roulette, Ra Roulette, Auto Roulette, and Multi Wheel Roulette.
All titles offer a chat box so you can talk to other players and the dealer – or not if you prefer to be a silent high roller.
Whale limits on NetEnt's live roulette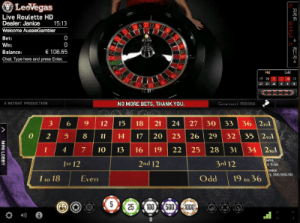 Net Entertainment have a variety of live dealer roulette tables with high maximums perfect for VIP limits, including Live Roulette Pro, with a maximum of $200,000; two other live dealer roulette titles each with a maximum of $75,000; and an Automatic Roulette title, with a maximum limit of $50,000.
The web cam technology is of high quality, just as the aforementioned variants offer, and you can chat to the dealer via the chat box on the side of the screen.
Why aren't the VIP roulette limits available to me?
When you first sign up to an online casino, you will start off on the first level of their loyalty program. This may mean when you open the live lobby you are only given access to the lower table limits. But when you make your first deposit, especially if it is large, you will be able to access the huge maximum limits on offer.
If they still don't become available, contact the support of the Web casino you've chosen and explain you're after bigger limits. They will do their best to accomodate and customise the betting limits to suit your VIP needs.
What if my deposit exceeds the casino's maximum limit?
Many online casinos have a maximum deposit limit imposed which can be smaller than the available table limits. If this is the case you will need to contact the web casino and indicate you plan to deposit a larger amount. An account manager will be able to help you out and make the deposit limit larger and you will be awarded with benefits only available to VIP players.
Benefits include generous and customisable promotions and bonuses, invitations to exclusive events, flights and accommodation, concert and sporting tickets and much more. In conclusion, this leads us to believe online VIP roulette isn't as good as land-based high roller roulette – it's better.
Opt for Guts online casino to access the best range of high roller live dealer roulette games and reap the VIP rewards from one of the best casinos available online.