Players after incredibly unique live dealer variants need look no further than Extreme Gaming's live croupier roulette catalogue. The innovative live dealer specialists offer a large catalogue available on both desktop and mobile devices, featuring traditional roulette titles, hybrid games, and special features available.
About Extreme Gaming
Extreme Gaming is relatively new to the gaming industry, as it was only established in 2013. However, the founder and CEO, Darwyn Palenzuela, co-founded top leading live software provider, Evolution Gaming, so the experience is definitely not lacking.
Palenzuela was CTO of Evolution Gaming and then moved to a company called Smart, but he wanted to get into the Asian market so decided to team up with Novomatic and via NYX Gaming's platform he created Extreme Gaming, and in turn released an incredible live croupier catalogue.
Extreme Gaming doesn't just offer live roulette, but live blackjack and baccarat titles too, with both categories featuring unique variants and features. The most prominent and unique feature to the catalogue is the use of X-Mode, which utilises technology to create a live gaming experience unlike no other.
Extreme Gaming live roulette tables
Extreme Gaming live dealer roulette games range from your traditional roulette tables to hybrid titles and Multi Wheel games too. Each table uses the European wheel and layout.
The dealers can be male or female, and all are very attractive. They've been set up in a studio based in London and the live feed is of very high quality. Additionally, they welcome you verbally as you enter any one of the tables we detail below, so be sure to choose an appropriate screen name. There's a huge range in table limits too, as follows: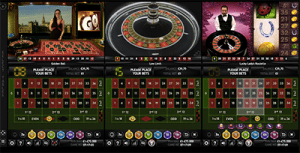 Classic Roulette: Minimum: $1, Maximum: $75,000 – Featuring classic European rules with numbers 1-36 and a single zero.
Golden Ball Roulette: Minimum: $1, Maximum: $75,000 – A unique title where the highest wagering player can tell the dealer when to stop spinning the wheel.
Sizzling Hot Roulette: Minimum: $1, Maximum: $2500 – Based on one of Novomatic's popular pokies, Sizzling Hot, players can play European roulette and make a side bet on the 1 reel pokie.
Lucky Lady's Roulette: Minimum: $1, Maximum: $75,000 – Another title based on a popular Novomatic pokie, players can play live European roulette and place a side bet on the 1 reel pokie next to the video feed of the dealer.
Dolphin's Pearl Roulette: Minimum: $1, Maximum: $75,000 – Based on the Dolphin's Pearl pokie, players can make a side bet on the 1 reel pokie while playing live European roulette.
Ra Roulette: Minimum: $1, Maximum: $75,000 – The last of the live dealer hybrids is Ra Roulette, which features a 1 reel pokie next to the live dealer feed based on the popular Novomatic pokie, Book of Ra. Make your side bet while you play European Roulette.
Auto Roulette: Minimum: $1, Maximum: $75,000 – Multiple tables featuring low and high limits, with the game running on a faster than usual pace. Players can make their bets and the wheel, which runs on RNG software, will spin determining the outcome quickly – no dealer is present
Club Roulette: Minimum: $1, Maximum: $10,000 – Only open from 15:00 to 3:00 CEST this game is a more player orientated option with the dealer repositioned to the left and the table in front of the screen for an interactive experience.
Multi Wheel Roulette: $1, Maximum: $75,000 – This incredible title features three roulette tables and three roulette wheels with four combinations to choose from, including three of the tables listed above.
Extreme Gaming special features
While the games make the live dealer specialist stand out alone, the provider has included special features which make the overall live gaming experience quite exceptional.
X-Mode
X-Mode is available on many of Extreme Gaming's titles, and it has been created using state of the art technology in order to give players a premium live gaming experience – closest to a land-based experience than any other developer has provided. When it comes to X-Mode on the roulette tables, which all titles above offer, it gives the player a closer angle view of the table and wheel.
Resolution
While the best experience will be played in high resolution, not all players have the Internet connection to support this HD feed. Extreme Gaming understands this and have included the option to change the resolution of the video feed from high to low. Players can also turn it off completely but still receive the same results determined by the live dealer – or opt for Auto Roulette.
Chat box
A chat box is included in all of Extreme Gaming's live titles. It is a messenger-type service where players can type in their text to talk to other players, who reply via text, and the dealer, who will respond verbally.
Tournaments
Extreme Gaming also offer a completely unique feature for live gaming – tournaments.
Generally offered with the Golden Ball variant, players can battle each other for the top spot on a tournament leader board in order to score some amazing prizes. These are put on monthly so be sure to check the Extreme Gaming Live Roulette lobby regularly.