We take a look at multi-wheel online roulette to establish whether or not it's worthwhile to play these titles, tips for playing multiple wheels at once, and the best places to try your luck on the additional wheels.
Roulette casino sites
Casino
Bonus
Games
Pokies
Signup

When the prefix 'multi' is applied to any casino game, players tend to get excited, but whether or not a multi-wheel game is a good thing is up for debate. In this world of instant gratification, more of anything always seems appealing, but excess often comes with a downside.
In multi-wheel roulette titles, software providers add additional wheels to give you more chances to win. When playing online, you can choose to spin up to eight roulette wheels at once, each requiring its own seperate real money wager. While this can be exciting and entertaining as multiple wheels spin at once, it also brings a higher cost and more chances to lose. It's important to remember that the more wheels you play, the more money you are risking, as this can be a sure way to burn through your bankroll at a rapid speed.
Best casinos with multi-wheel online roulette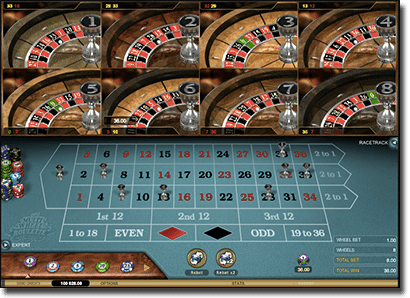 While multi-wheel roulette isn't as popular as the traditional single wheel version, you will find plenty of places to play online. But Aussies can no longer legally play roulette online as of September, 2017. International players, including New Zealanders, still can.

Three of our highly recommended online casinos offer a multi-wheel roulette title with tons of sign-up bonuses available for new players who sign up using our links:
These leading online casinos are accredited by third party organisations so that when you make a deposit to play real money roulette titles, you can rest assured that your private and financial information is protected. These casinos offer Microgaming's Multi-Wheel Roulette Gold, which features eight wheels in play, all offering 37 pockets with the European roulette rules applied.
Nervous about risking your money on multiple wheels at once? Our recommended casinos also offer the option of free-play, where you can try the game in practice mode, so you can see if you feel comfortable with this multi-game format before wagering any of your own real money.

How does multi-wheel roulette work?
Multi-wheel roulette titles see one roulette table and a certain number of wheels added. They generally employ European roulette rules and therefore each wheel only has one zero, though there may be variants that offer multi-wheel roulette with the American wheel (double-zero) but we recommend avoiding this type of title as it only increases the house edge.
While the addition of extra wheels may seem quite complicated, there is only one table involved which makes the whole process quite simple. To play multi-wheel roulette, you simply place your bets, including inside and outside bets, by clicking on the layout. Then, once you have made your bets press the 'Spin' button and here, all of the wheels will begin to spin and the results will be determined on each wheel. All winning bets will then be paid out accordingly.
The Microgaming multi-wheel variant you'll find at our recommended casinos offers 35:1 odds for a straight bet, and 1:1 for an even money bet. Chip sizes start at $1 and go up to $50. There is also the option to opt in for the 'call bet' where bets will be placed automatically for you if you aren't sure what to wager on. Additionally, you can enable or disable as many or as little number of wheels as you like.
Is multi-roulette worthwhile?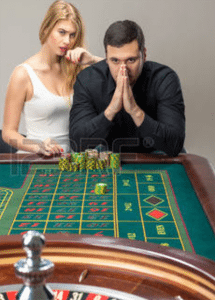 As we hinted above, when playing multi-wheel roulette, you are increasing your chances at winning due to the additional wheels, but you are also likely to be spending more to do so. If you are placing a wager of a $1 chip on the number five and there are eight wheels, it will cost you $8 to cover it (the one bet applied to the eight wheels). This can seem quite costly in comparison to single-wheel variants. However, the potential payouts may make it worthwhile, provided that you're betting within your means and not risking more than you can afford to lose.
With our same example, if just one wheel lands, the number you will be paid the usual 35:1 odds; if you land the number five on one wheel you will be paid $36. If you happen to land more than one your payout is doubled, tripled, quadrupled and so on, with your winnings multiplied by right the number of wheels that are in play. So if you spin a five on all eight wheels, you will win 36 x 8= $288.
But you can look at it as if you lose, you end up losing eight times faster than if playing with a single wheel. Therefore, it ultimately comes down to whether or not you personally think it's worth it. You can win quite big, but you can lose even quicker in comparison to a single wheel variant, but there are tips to help counteract this.
Tips for playing multi-wheel roulette
While there are additional roulette wheels, there is only one table so this means your bet is applied to up to eight wheels. The best tip we can give you is to remember that each wheel spins independently of each other so you can have up to eight different numbers/outcomes for just one bet.
It is still a game a chance so it is possible to get lucky and win on all eight wheels (or all wheels that are included in the title), but there is also a chance to lose on all wheels meaning you will lose more than you would on a single-wheel roulette title. This means you need to prepare your bankroll in accordance to the fact each bet is multiplied by the number of wheels involved.
Additionally, it may be worthwhile in making high paying bets, such as a straight bet or a street bet, rather than even money bets since one win out of eight possible wins can offset any losses.
If your title allows you to disable the number of wheels in play, perhaps start small with one or two additional wheels activated and grow as you get use to it.
Keen to give multi-wheel roulette a try? Sign up at Guts Casino where new players can claim up to $400 in matched deposit welcome bonuses plus 100 free spins to use on the pokies.