If you weren't aware, the ICE Totally Gaming Conference was held at the start of this month and one of the most innovative demonstrations held was the virtual reality roulette game by Microgaming.
The top software developer demoed the virtual reality game to the public in a futuristic cryo lab – designed specifically for the demonstration.
The showcase immersed players into a virtual reality where a decked out roulette table was set in outer space – transporting the users to another world. Players versed a robot dealer who spun the ball and players interacted with it by touching anything they could see.
Check out the latest from Microgaming at www.AllSlotsCasino.com
Players used the Oculus Rift DK 2 headset along with the Lead Motion 3D Controller and players placed bets via hand movements and more. This demo was to determine the public's response to VR gaming and it seems it was well-received.
Since the demo, Microgaming have released a video based on VR gaming to show the demonstration in action and in the process discuss exactly where VR is headed in the iGaming industry.
In the video, which you can watch below, Microgaming's Head of Product Channels, Neill Whyte, stated they were the first to predict the mobile revolution and as such VR will be the next big thing in the iGaming industry.
One user in the video said of the VR Roulette demo "it was a very calming experience in some way because you felt like you were in a whole different world."
The software company have come a long way since announcing VR for online casinos at last years ICE Conference. Here, they discussed the potential of VR and their plans to create a VR Roulette table, detailing everything, including the robot who calls the bets and determines the results, which has been showcased this year, meaning it might not be long until we see it rolled out at our favourite Microgaming online casinos.
Until then, the closest you'll get to VR Roulette is Microgaming live dealer titles.
Microgaming live dealer roulette
While we wait for VR Roulette to become available – and for Oculus Rift headsets to be available to purchase – we can play real money roulette with a human dealer streamed directly to our screen. Live dealer roulette isn't another world, but it does transport us into a social realm more so than standard roulette titles.
These dealers, who are set up in a studio, will determine the result of where the ball lands and players can make wagers by clicking on the virtual layout and watch the outcome via the direct feed.
Available live dealer roulette variants come with traditionally-dressed and Playboy Bunny croupiers and include;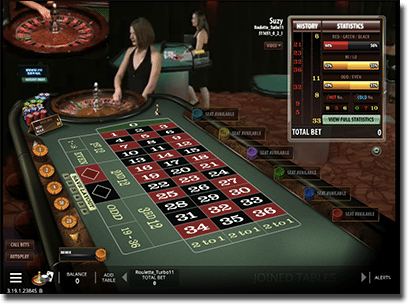 Classic:
Live Dealer Roulette low limit: $0.5 to $10
Live dealer Roulette medium limit: $1 to $25
Live Dealer Roulette medium limit: $2 to $50
Live Dealer Roulette high limit: $5 to $100
Live Sealer Roulette high limits: $10 to $200
Playboy:
Live Dealer Roulette low limit: $1 to $25
Live Dealer Roulette medium li: $2 to $50
Live Dealer Roulette high limit: $5 to $100
You will find these live titles at one of our favourite Microgaming online casino www.AllSlotsCasino.com.