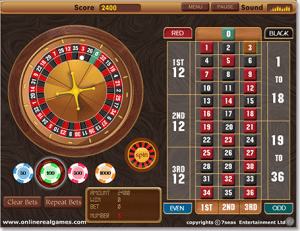 Yahoo hosts an array for games that you can play for free. You don't need a Yahoo email in order to access its gaming selection but if you do login using your Yahoo email address you can save your favourite games and personalise other aspects of your gaming experience. If you enjoy mini-games then Yahoo games will probably be able to meet your needs, however Yahoo games are really subpar if you are after a quality roulette variant or any other casino games.
About roulette on Yahoo games
Yahoo games splits its games into the following categories; Arcade Games, Puzzle Games, Strategy Games, Card Games, Board Games and Word Games. Their site is a little difficult to navigate if you you are looking for something specific rather than just browsing games. You probably won't be able to navigate your way to Yahoo's roulette game so you're better off just using the search feature.
Yahoo does switch up its selection of games and adds to its gaming repertoire so you may find more roulette variants on its site in the future. However at the moment there is only one roulette game available. Yahoo's roulette variant is called Max Roulette. Max Roulette has a simple layout with the table where you place your bets on the right and the playing reel on the left. You can use any combination of the four chips valued 50 – 1000 to place your bets. Once you're happy with your bets you can hit the Spin button which will set off the playing reel. Squares on the right-hand table will light up as the ball spins round, once the ball has come to a stop the winning square will flash. After your round is up there is the option to clear the roulette table of your bets or to repeat your same bet placement.
Yahoo's Max Roulette is fun to play. It sticks to the traditional format of the game. It has a simple, clean layout and offers a relatively authentic casino experience. However you can't play with real money, which takes a lot of fun away from the game. It's a good way to practise roulette and prepare yourself for real money play.
Why roulette is better at an Internet casino than at Yahoo games
Playing roulette at a dedicated online casinos is far superior to playing the inferior roulette versions offered at Yahoo. At Yahoo you can only play games for free which takes away a lot of fun of the game. Quality online casinos let you play for free or for real money at your discretion. In addition to letting you play roulette for real money, reputable online casinos have safe and secure banking options so you can make deposits and withdrawals to and from your playing account.
Playing roulette is also better at online casino as there are multiple roulette variants so you can have a little variety in your roulette play. Yahoo is very limited in its casino games, whereas at an online casino there are literally hundreds of different types of casino games that you can play. Dedicated Web casinos have at least a few different roulette titles, for example at Royal Vegas Casino there is; Premier Roulette, American Roulette, Multi-Wheel Roulette, European Roulette, French Roulette and more. Many of the big-name Internet casinos also offer live dealer games of roulette where you have a real person as your croupier and you play the game via a live video stream. This is technology that is far more advanced than Yahoo games.
Lastly, established online casinos are better than Yahoo's games because their roulette games are better developed. The actual games themselves are of a much higher quality at online casinos because industry-leading gaming software developers are employed to create their games.
Dedicated online casino alternatives
The best Web casinos in the world are powered by the top gaming software developers. If your Internet casino sources its games from Microgaming, Net Entertainment, BetSoft or Ezugi then you can be assured that their roulette games will be better than what Yahoo is offering.
Microgaming is responsible for creating the first ever true online casino in 1994 and has been a leader in designing excellent online gambling games ever since. Most of the major Web casinos source games from Microgaming because they consistently create games of a high calibre. If you're playing at an online casino powered by Microgaming you can expect new and exciting casino games every single month.
Net Entertainment is a gaming software developer company based in Stockholm. They aim to encompass their company values of innovation and passion into their games, and they really do have a thrilling and diverse collection of games.
BetSoft aims to create state-of-the-art games that are immersive and add something new to the field of online gambling. They specialise in 3D games that captivate the imagination. You can expect roulette titles developed by BetSoft to be highly entertaining and enthralling.
Ezugi specialises in interactive gaming, they are responsible for the technology behind live dealer games. Ezugi's technology is striving towards bringing an authentic casino experience to the online world so you can play an interactive and social game from the comfort of your own home. Their roulette console is to die for with the option to chat to other players, play side games and even use it on your smart TV. Ezugi have made the live dealer experience a true casino experience.