Roulette is quite a simple game once you have all the wagers figured out, including whether or not they are worth making. One such bet, which has a high risk factor in the game of roulette is the split bet, as the payout is quite substantial but the odds aren't in the player's favour. We break down its payout, house edge and whether it is worth the risk in the average game of roulette.
Recommended online roulette casinos
Casino
Bonus
Games
Pokies
Signup
Where to practice split bets online
As a rule of thumb, we highly recommend overseas players opt for online roulette, as it offers the best house edge and even French roulette variants, which you may not find as easily at land-based venues. It's also a great venue for practicing different types of wagers like the split bet for practice money, before committing to playing with real money. All of the casinos listed above are top-rated casino sites recommended for international punters, and all support multiple currencies for bets.
Roulette split bet
A split bet falls under the inside bet category, wagers located within the layout of the table and see large payouts but a high house advantage. Outside bets on the other hand are bets placed on the outside of the table layout and while they have smaller payouts, the odds of winning are a lot better.
The split bet is a bet which sees a chip placed between two numbers – horizontally or vertically – to indicate you are betting on two numbers, such as 13 and 14, or 26 and 29.
Split bet payout and house edge
The payout for a split bet is 17:1 on all American, European, and French roulette tables, while the house edge tacked on when opting for the bet is 5.41% for American roulette, and 5.26% for European and French Roulette variants.
Since European roulette has a house edge of 2.70% and French can be as low as 1.35%, you may as well play American roulette, with a house edge of 5.26%, if you are going to opt for this bet regularly. While the payouts are quite appealing, the house edge can outweigh the advantages.
Is there a roulette split bet strategy?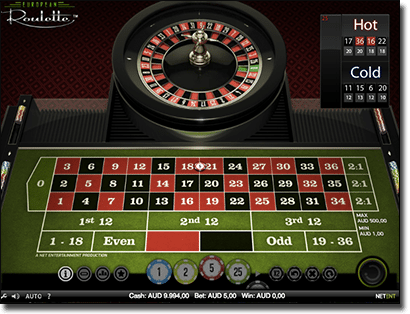 Roulette is a game of luck and while there are certain things you can do to get the lowest house edge possible before playing, there is no calculated moves when playing to get the house edge, or the split bets' house edge, lowered.
You can opt for French roulette, the lowest house edge for a roulette title thanks to the single zero and the favourable La Partage rules, but if you make a split bet this house edge goes out the window.
However, there are still players out there who swear by their special strategy for split bets despite not changing the house edge.
One such strategy includes the Kavouras strategy where players place one unit on a corner bet, two units on a double street bet and then one unit on five split bets, with each bet falling under the inside bets category. This strategy is said to see overall less losing streaks due to the 20 numbers played and every win is said to see a profit.
However, this strategy doesn't reduce the house edge and at the end of the day roulette is based on luck and the house edge cannot be reduced by certain wager tactics as it can be in the game of 21.
Therefore, while some players will swear by this strategy, and you may even want to try it out for yourself, be sure to remember it is a game of luck and it may be best just to opt for the best bets available in roulette.
Best bets in roulette
As we have mentioned above, we advise avoiding split bets and stick to outside bets instead. Here are some of the best bets to make in roulette, and they all fall under the outside bets category.
Low or High: You are betting the outcome will either be a number from one to 18 for a low bet or a number from 19 to 36 for a high bet. Pays 1:1.
Red or Black: You are betting on the outcome of either landing on a red or a black number. Pays 1:1.
Even or Odd: You are betting the outcome will either be an even number or an odd number. Pays 1:1
Dozen bets: You are betting the outcome will either be a number in the first 12 numbers (1 – 12), the second 12 numbers (13 – 24) or the third 12 numbers (25 – 36). Pays 2:1.
Column bets: You are betting the number will be in the first column, which includes numbers 1 to 24; the second column, which includes numbers 2 to 35; or the third column which includes numbers 3 to 36 each straight down the layout. Pays 2:1.
These are the best bets you can make when playing roulette, but if higher payouts are more appealing to you there are worse bets than the split bet. For example, the five number bet in American roulette of 0, 00, 1, 2, and 3 has a house edge of 7.89%, so if you do want to make a one off due to the appealing payouts you should opt for the Split bet over this one.
Practice split bets at G'Day Casino and play the very best RNG and live dealer roulette games online for real money currency.