Most experienced roulette players are familiar with the fact that there are two main types of roulette; American roulette and European roulette. But what exactly is the difference and does it matter which version you play?
Best European roulette casinos
Casino
Bonus
Games
Pokies
Signup
We explore the difference between the two roulette variations in this article to give players, both new and proficient, a better understanding of American roulette vs European roulette and the different benefits to playing either wheel. You can see the wheel layouts in the images below.
Differences between American and European roulette
The difference between these two roulette variations is simple. While both game variations follow the same basic rules, the American roulette wheel contains an additional green space consisting of a double zero (00), as well as a single zero space. The European roulette wheel (which is sometimes called French Roulette) has a single zero only.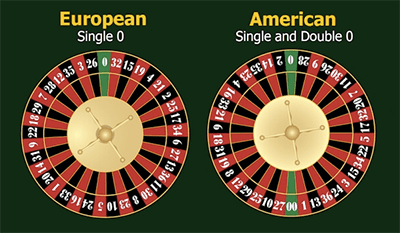 Despite common belief, there is actually a calculated reason for the way that numbers are arranged on the roulette wheel. While seemingly at random, the numbers are arranged this way so that the odds of landing on a high, low, odd or even number are evenly distributed. The green zero space exists to balance out the playing field on the casino's behalf; without it a player's bet on either red or black would be 50/50.
With the zero space it means that the chances of the ball landing on red or black is slightly less than half, with the single zero found on the European roulette wheel bringing the house edge to 2.7%. The additional double zero on the American roulette wheel increases the house edge to 5.26% and lowers the player's chances of a win.
Which is better – single-zero or double-zero roulette?
It is indisputably understood by gambling experts that European roulette is much preferable over the American style. In fact, some professionals condemn American roulette altogether as a rip-off that's created purely to increase profits for casinos.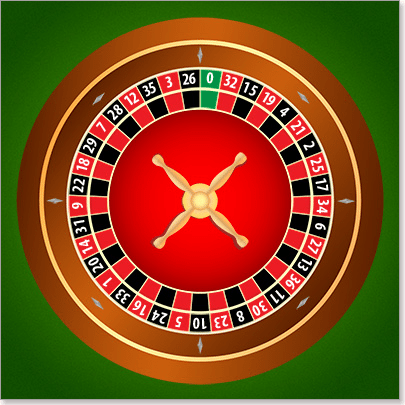 Worldwide, European Roulette has much higher instances of big wins for players.Interestingly, in comparison, there are some faithful US players who insist on the benefits of the American version. The fact American roulette is so common in land-based casinos outside of the USA speaks volumes as evidence that European Roulette reigns supreme as the variant of choice which live casinos want to make it harder for you to find and play. This is another reason why online Roulette is superior – you can easily find a European table.
As with any casino game, it ultimately comes down to the individual player's personal preferences and strategies. Roulette is a game of chance and should always be played as so, and while there is no difference to the payout rate for either roulette version, understanding that the house edge is much higher in American roulette will hopefully encourage players towards the much more preferable European version.
Betting differences between American and European Roulette
In a bricks and mortar casino, European roulette games typically carry a higher betting minimum than American roulette due to the lower house edge. American roulette can usually be played at a lower price because the chances of the casino winning the bet is increased.
One of the many benefits of playing roulette online is players can play European roulette for much lower minimum bets than you will typically find in an Australian casino. European roulette can be found at some online casinos with minimum bets as low as $0.01 per spin, however the reputable, trusted online roulette sites that we recommend start minimum bets for European roulette around the $1 mark. Playing online offers much more flexibility than a land based casino, where minimum bets in casinos are likely to start around the $5 mark and increase significantly.
Play roulette online for real money
In a land based casino, players are always encouraged to check whether the roulette game they are about to play uses the American or European wheel before placing a bet. Casino tables will usually specify the variation in use. The difference should usually be clear when playing online roulette as the game title itself should give you all the information you need, however always double check the games rules first if you're not sure. If you still can't find the answer, simply remember that an American roulette wheel is the one containing the extra double zero green space and that your chances of winning are decreased when playing this version.
Another reason online roulette is preferable to playing in a land based casino, is that the range of games is so much more elaborate in a virtual casino. Head to any of our recommended online casinos like:
You can try numerous different versions of online roulette. If you're still not convinced of the benefit of playing European roulette over American roulette, playing in practice mode for free is the perfect way to compare the difference between the two and decide for yourself before laying down real money wagers.
A majority of online roulette games utilise the European roulette wheel, but there are still several online roulette variations that offer the American double zero game. After a few rounds of each, we're confident that international players will agree that European roulette is the way to go to secure a higher chance of bringing in a win.