A square bet — or a corner bet — is a single bet that covers four numbers on the layout in the shape of a square. The only exception to this is a bet on European — or single 0 — roulette called the first four. There are 22 possible square bets on any given roulette table as well as the first four bet on a European style roulette table.
Recommended online roulette casinos
Casino
Bonus
Games
Pokies
Signup
As with making all bets at a bricks and mortar casino you must wait for the dealer to announce, "Place you bets," before you can start placing your chips. Placement of a square bet is of utmost importance. If it is not placed exactly on the single intersection of all four numbers you wish to bet on then it may not be counted as a square bet at all. It may be confused for a split or even a straight up and at worse, be cleared as a losing bet.
Placement of square bets when playing Roulette online is a lot safer and simpler. You simply click where you want your square bet and there it remains until the ball has dropped. There is no danger of you accidentally placing the bet incorrectly or another punter knocking your square bet out of place.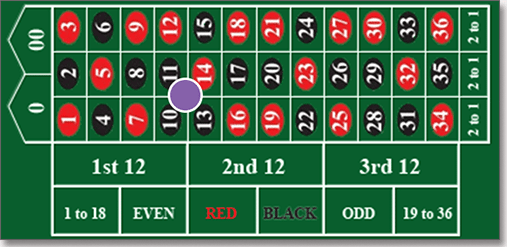 What are the odds?
Whether you are playing on an American of European style roulette table the odds for a square bet are the same: 8-1. This is the same for the first four bet in European Roulette, too.
The house edge when playing square bets does not alter from the house edge of each style of roulette:
American Roulette house edge: 5.26%
European Roulette: 2.70%
The probability of hitting one of the four numbers covered by your square bet on an American layout is 10.53%, while the probability of winning a square bet on a European table is 10.80%.
Verdict
Playing square bets will not make you rich quick, but they are a fun way to keep you in the game longer.
Square bets can so easily be knocked or inadvertently moved from their original position at a bricks and mortar casino, so keep your eye on your chips so you can play safe in the knowledge that whatever square bets you place will remain that way until the ball drops and the winning number is announced.
Online casino games developers like Microgaming, NetEntertainment and BetSoft boast Roulette variants, so log on to your favourite online casino and start experimenting with playing Roulette and square bets – but only if you're a player from a country where online casinos are legally permitted and regulated.
A great way to see how a square bet works is to visit www.GdayCasino.com and experiment in freeplay mode.