Roulette is said to be a sucker's game, though you shouldn't be fooled into thinking it isn't a game worth playing. Due to the house edge in roulette, many believe players are unlikely to walk away a winner. However, we have taken a look at the variants, the best strategies to play and which bets lower the house edge, so you have the chance be one lucky sucker.
Best roulette casinos
Casino
Bonus
Games
Pokies
Signup
Is American roulette more of a sucker's game than European?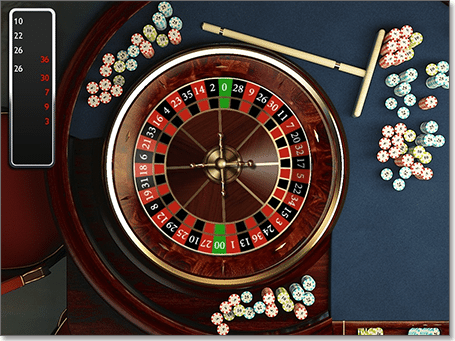 The house edge is the primary reason for the belief roulette is a sucker's game. There are, however, strategies which can lower the house advantage. They include picking the right variant of roulette. There are two extremely common versions, American and European roulette, while a third, French roulette, is becoming more popular.
The house edge for French and European roulette is 2.70%, while for the American version it is almost double that, at 5.26%. This is due to a single extra numbered pocket on the American wheel – a double-zero in addition to the single-zero. It doesn't seem like much, but this has a huge impact, so don't be a sucker and fall for this version – play European or French whenever you can. A one-in-37 chance you will lose your money in European roulette to the zero, becomes a two-in-38 chance in American roulette.
If you find you have no choice but to play American roulette, there is always one bet you should avoid. This bet is the 'top line' bet which covers the two zero pockets, as well as numbers one, two, and three – it has a house edge of almost 8%.
Best strategies to win in roulette
While the main strategy when playing any casino game is to be lucky enough not to lose, it is also a good idea to have a look at some of the most popular strategies players use to attempt to beat the house. The most popular roulette strategies are played on even-money bets – high or low, red or black, and even or odd.
The Martingale system
The Martingale is a progressive betting system where players double their wagers after every bet they lose, with the idea that eventually they will make up for what they have lost, along with a tiny profit. It is used on even-money bets.
For example, if a player was to use this system and bet $10 on red, but it lost, they would then bet $20 on red. If it lost again they would once again double their bet and place $40 on red.
If it won this time, they would make the $30 back they lost, plus a $10 profit. So the main idea behind this system is you have to win eventually. There are flaws in this strategy though, because if you lose too many times, you may not have enough money to double up and make your money back. Also, this strategy is only good in the short term because eventually you will need too big a wager, which could very well exceed the table limit.
The cancellation system
To use the cancellation system, or the Labouchère system as it is also know, players need to select five numbers. For our example we have chosen 10, 11, 12, 13 and 14. The player then adds the first and last numbers together, so we add 10 + 14 = 24, and then they must bet the total sum, so $24 for us, on an even-money bet.
There are two possible outcomes: the bet wins or the bet loses. If the bet wins, the two numbers are crossed off the list. If it doesn't, the amount lost is then added to the list, so for our example, 24 would be added to the list of numbers. Players are advised to walk away once all numbers have been crossed off, or obviously when they have run out of money to play. If all numbers are crossed out then you will win the total sum of the original number. The problem with this system is if you lose consecutively, the bets required will soar.
The red system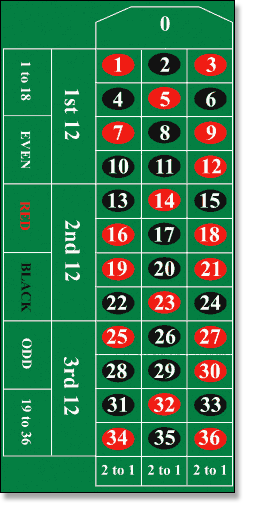 Armed with the knowledge the third column on a roulette table has eight red numbers, but only four black numbers, this bet uses both an even-money bet as well as a column bet. This strategy requires you to bet one unit on the third column, and two units on the colour black. For example, players place a $10 bet on the third column, and $20 on black. If a red number in the third column wins players will win $20 as it pays two to one, but will also lose $20 on black, meaning players will break even. If a black number in the third column wins however, the $10 column bet will win, and so will the bet on black, totalling $60. Though, if it lands on red in the first or second column, both bets will be lost, while black in the first or second column will have you lose the column bet, but win $40 on the black bet. This strategy works best with European or French roulette.
The Paroli
The Paroli could almost be called the reverse Martingale system, as progressions on bets occur only when players win. So if a player puts $10 on black to win and it does indeed win, the player then doubles their initial bet.
For our example, the player would then be betting $20 + $10 = $30. Winning this would mean a cool $60. Losing, though would mean you go back to betting $10. However, similar to all of the other strategies, this system has its flaws. You have to be on a hot streak for this system to work and to figure out when that is going to occur is impossible.
There are plenty of roulette strategies to try out, but don't be suckered into one thinking any of them are a sure thing – all have their flaws, and are certainly not bullet-proof.
Best bets to play in roulette
As most of the above strategies attest, the best types of bets to play in roulette are the even-money options. Two additional options you won't be able to play on American roulette, which help you as a player against the house, include the 'en prison' rule and the 'la partage' rule. They are usually offered in French variants and decrease the house edge to 1.35%.
Both rules only apply with even-money outside wagers – the 'la partage' and 'en prison' rules comes in to play if the ball lands on zero, and a player has bet an even-money wager. Players can decide if they want to get half their bet back (lose only half their initial wager – la partage), or if they want their bet to be imprisoned (en prison), which means the bet remains in its position for the very next spin. If choosing the 'en prison' option, the player stands to have his bet returned in full (no profit) if the very next spin matches his or her bet. If it doesn't, the player loses the bet (two shots at the cherry). If the ball lands on zero again, the bet may be treated as a loss, returned in full, a win, or again subject to either the 'la partage' or 'en prison' rule.
Why is it called the Devil's Wheel?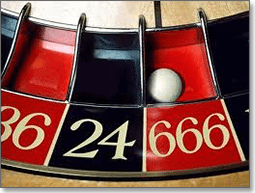 Brothers François and Louis Blanc created the single-zero variant of roulette in 1842, which we know as European roulette. Before this, only the American version was available. François was the first person to bring this roulette variant to Monte Carlo.
With this, a legend emerged that François traded his soul for the secrets of making his version of roulette the best ever – making a deal with the devil for the secrets of roulette in exchange for his living soul. Now, when you add all the numbers together on a roulette wheel – zero to 36 – you get 666, the number of the devil.
However, the American roulette variant, which was born first, also totals 666, so perhaps it was the creator of the American variation (Blaise Pascal) who made the deal with the ruler of the damned, and to the devil's credit, he reappeared when François wanted to better the game, taking two souls for the price of one, simply by removing one of the zeroes – a true genius, whom we now have to thank for generating a lower house edge and better odds for the player.
Where to play roulette online
The easiest way to be a sucker is by not doing your research to find the best, most trustworthy and reliable casinos on the Internet. If you are playing with real money and reside in a country where online casinos are legal (unfortunately for Australians, online roulette is currently banned), you don't want to be suckered into a suspicious Internet gaming establishment and end up having your money stolen. All of the online casinos we recommend are trustworthy, secure, and most of all, take your personal and financial information seriously.
In doing so, they offer an array of payment methods which can suit your personal preferences, such as credit and debit cards for instantaneous transactions, e-wallets which do not require you to input your card information directly, and even pre-paid services which are great for people who can't obtain credit or debit cards.
To play roulette online with real money we recommend the following casinos.
Royal Vegas Casino: With around 12 variants of online roulette, sign up with Royal Vegas and access up to $1200 in deposit bonuses with their welcome package.
G'day Casino: Featuring 13 variants, receive a free slab of beer when you deposit $100 or more to this casino.
Guts: With a slick interface and up to 12 variants of roulette, this online casino does not require you to download any software in order to access its full catalogue of games.
Casino-Mate: With 12 variants of roulette, including a multi-player version, Casino-Mate offers different games on both its flash platform and via the downloadable software.
7 Sultans: Try all three variants – European, French, and American roulette – at 7 Sultans as well as the progressive variant Roulette Royale where you can play roulette and win the jackpot.
All Slots: Despite the name, All Slots offers 12+ variants of roulette which are also available on your smartphone or tablet.