With unique rules and improved odds, no version of the game offers better bang for your buck than French roulette. But what makes this traditional variant so special, and where can Australian gamblers play it for real money? We'll show you.
Online roulette sites
Casino
Bonus
Games
Pokies
Signup
How is French roulette different to European and American rules?
French roulette shares much in common with the modern European roulette games found all over the globe. Both games use the same payouts for everything from straight numbers (35 to 1) down to the even money bets (1 to 1). They also share a single-zero wheel with a 2.70% house edge on inside bets, dozens and columns, as opposed to the far less player-friendly American double-zero layout (5.26%).
The first thing that separates French roulette games from others is the arrangement of the betting layout. Most single- and double-zero tables nowadays are designed with the outside wagers clustered together on one side of the table, so players can reach every betting box without shifting positions. On a classical French layout, however, the even money bets are arranged on either side of the single numbers, with 1-18 (passe), evens (pair) and black (noir) on the left and 19-36 (manque), odds (impair) and red (rouge) on the right.
While the placement of the outside betting boxes may be purely cosmetic, the rules which govern them are not. Wagers on red or black, even or odd, and high or low in French roulette are subject to what are known as 'imprisonment' rules, which allow players to reclaim part of their stake when the ball lands on zero. These conditions halve the house edge and are rarely found in Australian roulette games these days.
Another bonus is the ability to make call bets. These are now widely available in both land-based casinosand online roulette games, often via the special racetrack layout, but there once was a time when you had to find a traditional French-style game if you wanted to announce wagers such as tiers, voisins and finales.
French roulette unique rules
The majority of French roulette layouts feature one of two favourable playing conditions which aren't available at standard casino tables. These are the imprisonment rules, both of which reduce the house edge on a single-zero layout to about 1.35%.
La partage – The 'half-back' rule is heavily used in the UK, but can also be found in the high-roller rooms of Las Vegas and continental Europe. Should the ball finish on zero, anyone betting at even money gets half their initial wager back. For example: if we staked $10 on black and the result was zero, we would forfeit $5 and reclaim the remaining $5.
En prison – Whereas la partage is an automatic get-out-of-jail-free card, en prison roulette also offers players the option to stay behind bars and let their original bet ride for the next spin. For example: if we had $10 on red and the result was zero, we could either take half back ($5) or play the full $10 on the following turn.
If your bet is in prison and the following spin turns up another zero, tradition dictates that your wager remains in jail until the next decisive outcome (i.e. not a zero). Sometimes this is framed as 'double imprisonment' or 'triple imprisonment', whereby you must then win twice or three times (depending on the number of successive zeroes) to get your bet out of jail. However, most casinos these days only give you one shot at freedom, meaning a second consecutive zero would count as a loss.
What are call bets?
As the name of the game would suggest, this version of roulette is where the so-called 'French bets' originated. Also known as call bets or announced bets, these special composite wagers allow punters to play several specific inside numbers at the same time. The most popular French roulette bets are: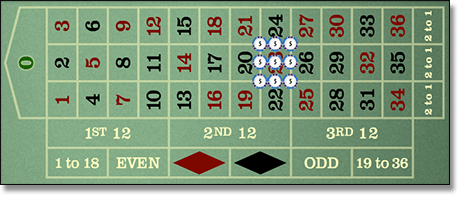 Voisins du zero – 'Neighbours of zero' is a nine-unit wager on the 17 numbers from 22 to 25 clockwise on the wheel. It consists of the 0/2/3 trio (two units), the 25/26/28/29 corner (two units) and the splits 4/7, 12/15, 18/21, 19/22 and 32/35 (one unit each).
Tiers du cylindre – 'Thirds of the wheel' is a six-part wager on the 12 numbers from 27 to 33 clockwise on the wheel. It consists of six splits: 5/8, 10/11, 13/16, 23/24, 27/30 and 33/36.
Jeu zero – 'Zero game' is a four-part wager on the seven numbers from 12 to 15 clockwise on the wheel. It consists of the 0/3, 12/15 and 32/35 splits and a straight bet on 26.
Orphelins – 'The orphans' is a five-part wager on the eight numbers that don't feature in either the voisins du zero or tiers bets. It consists of the 6/9, 14/17, 17/20 and 31/34 splits and a straight bet on 1.
Where to play French roulette
French roulette rules are becoming harder and harder to find at land-based casinos in Australia. This is primarily because double-zero roulette is now the standard option on the main gaming floor at most venues, especially at lower betting limits.
If you have the cash to splash, your best bet is to head to the VIP rooms at some of the country's more prestigious gambling establishments. High-end parlours such the Mahogany Room at Melbourne's Crown Casino and the Sovereign Room at The Star in Sydney offer French roulette layouts, although en prison rules may not always be available.
To play French roulette on the Internet or on mobile, check out our French roulette online article.