Australia is gaining a reputation worldwide for the variety and scope of its gambling industry, not least due to the number of quality land-based casinos found all across the country. Millions of Aussies and international tourists alike have flocked to these international-class gaming venues in recent decades to enjoy roulette, blackjack, poker, and the vast selection of pokie machines on offer.
Some of these casinos are among the largest in the Southern Hemisphere, which makes Australia one of the world's premier gambling destinations outside of the United States, Macau and Monte Carlo. For those of us out of a bigger city and residing in countries where online casinos are legal, playing online roulette, especially with the rapid advancement of live dealer, has become a viable alternative to visiting a land-based casino.
Australian brick and mortar casinos

Below is the complete list of Australian casinos. While each is governed by local state and territory gaming laws, the legal gambling age in all venues is 18 years. It is interesting to note that two of Australia's least populated states or territories – Tasmania and the Northern Territory – each boast a pair of fully fledged casinos, while the nation's two most populated states – New South Wales and Victoria – are home to only one each. This is set to change, however, with Crown Sydney scheduled to open in 2019 in Barangaroo, NSW.
Australian Capital Territory
Canberra Casino, Canberra
New South Wales
The Star Casino, Sydney
Northern Territory
Lasseters Hotel Casino, Alice Springs
SkyCity Darwin, Darwin
Queensland
Jupiters Hotel & Casino, Gold Coast
The Reef Hotel Casino, Cairns
Treasury Casino, Brisbane
South Australia
Adelaide Casino, Adelaide
Tasmania
Country Club Casino, Launceston
Wrest Point Hotel Casino, Hobart
Victoria
Crown Casino & Entertainment Complex, Melbourne
Western Australia
Crown Perth (formerly Burswood Casino), Perth
Land-Based New Zealand Casinos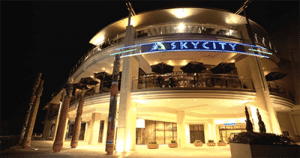 Our neighbours across the Tasman Sea are host to half a dozen b&m casinos – two on the North Island, four on the South Island. Curiously, two of these gaming establishments are located in the ski-resort village of Queenstown, Otago, while there is not a single casino in the Kiwi capital city, Wellington.
The largest b&m casino in New Zealand is SkyCity Auckland, which maintains over 100 table games and more than 1600 electronic gaming machines; it is also home to the Sky Tower, currently the tallest free-standing building in the Southern Hemisphere.
Visitors should note that you must be 20 years or older to enter the gambling floor in NZ. See our page on land-based casinos in New Zealand for more information on where to play roulette in the Land of the Long White Cloud.
North Island
SkyCity Auckland, Auckland
SkyCity Hamilton, Hamilton
South Island
Christchurch Casino, Christchurch
Dunedin Casino, Dunedin
SkyCity Queenstown, Queenstown
SkyCity Wharf Casino, Queenstown
Roulette Games at Australian Brick and Mortar Casinos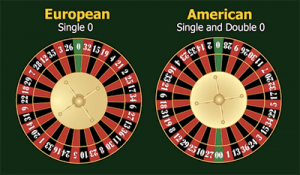 At each of the above listed casinos, both European and American roulette are offered. While it is advisable to stick with European roulette due to the smaller house edge (2.7% in comparison to the 5.26% edge in U.S. roulette), many of the above venues force gamblers to place higher wagers on European tables in order to counter the lower casino edge.
If you're prepared to hang around a $5 betting minimum table (that's the inside betting minimum), you should be able to find a European table offering such limits. American roulette tables entice players to play by offering inside bets at a minimum of $1.
Vegas Star, Rapid Roulette and Electronic Roulette
Electronic roulette games are now commonplace within land based casinos in Australia – a true testament to the growing popularity of screen-based gambling. Offering better odds and more betting options, these roulette computers allow players to place bets ranging from $0.50 to upwards of $500, and such games are European-based (one zero games).
So if you find yourself inside a land based venue and all roulette tables are packed to the rafters, consider these electronic versions instead (some are powered by random number generators, while others show a genuine wheel being filmed, automatically spun every two minutes or so).
See also:
Australian Gambling Regulations – At What Age is it Legal to Bet?