Want to play roulette for real money online but nervous about handing over your financial information? You might want to consider Flexepin, the newest e-Voucher service that allows users to transfer money safely on the web without any risks of exposing personal details. Read on to find out more about this pre-paid voucher and how you can use Flexepin to play online roulette with full peace of mind.
Note: This page is intended for our international readers only, where Flexepin is available for use. Offshore online casinos are prohibited from servicing Australians as of September 2017, following the introduction of the Interactive Gambling Amendment Bill 2016, so this page is informational only.
Safest real money roulette casinos
Casino
Bonus
Games
Pokies
Signup
How does Flexepin work?
Flexepin is what's known as a pre-paid card or e-Voucher – an online payment service that's becoming increasingly popular as users look for new ways to spend money safely on the Internet. Flexepin is part of the reputable FlexeWallet brand, launching in October 2016 to fast growing success.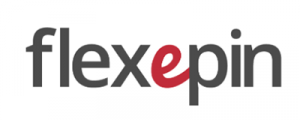 The purpose of Flexepin is to provide online users with a safe digital payment alternative to credit, debit and bank account transactions. Instead of handing over your personal financial information on the Internet, vouchers are purchased from real life retail outlets in exchange for cash. On each voucher is a unique PIN number, which can then be entered online to transfer funds to your casino account.
Basically, it's like a digital alternative to cold hard cash, with no links back to your personal identity. You don't need access to a line of credit or even a bank account to use Flexepin, allowing you to play roulette online with complete anonymity.
Where to buy Flexepin vouchers
Flexepin is still in its early days, so vouchers aren't as widely available as its leading competitor, Paysafecard. As of 2017, Flexepin vouchers can be purchased from retail outlets across Canada, with the service scheduled to spread to the UK and Europe in the near future as popularity grows.
Flexepin vouchers can typically be purchased from a variety of outlets, including lottery outlets, newsagencies, convenience stores, banks, supermarkets and mobile phone stores. To locate your closest Flexepin outlet, head to the official website at Flexepin.com and enter your suburb or postcode to find the store closest to you.
Which roulette sites accept Flexepin?
Flexepin deposits are accepted at two of our top rated roulette sites, All Slots Casino and Casino-Mate.
Both of these reputable online casinos are legally licensed by upstanding gambling jurisdictions and are protected by 128 Bit SSL (Secure Socket Layer) digital encryption, which means your Flexepin payments have multiple layers of security.
Roulette games at these trustworthy sites are available for instant-play directly over your Web browser, or by downloading the casino's premium software.
As the Flexepin service becomes more prominent, we expect it may soon be rolled out at other leading casinos as an alternative pre-paid choice to Paysafecard.
How to play online roulette using Flexepin
Using a Flexepin pre-paid voucher to fund your online roulette account is easy. While the act of physically purchasing a voucher from a retail outlet does require a tad more effort than using a credit card or bank account, the safety benefits are well worth it.
First, head to your closest Flexepin retailer and buy a voucher. Cards can be purchased for a minimum of $20, to a maximum of $5,000, with multiple currencies available including USD, EUR, GBP and CAD. You can also check your balance anytime at the Flexepin website by entering your PIN code in the Check Balance tool.
When you have your Flexepin voucher and have selected the roulette site you want to play at, here's how to make your deposit:
Sign up for a casino account – we recommend All Slots or Casino-Mate, which offer some fantastic welcome bonuses for new players.
Go to the casino's banking section and select Flexepin as your chosen deposit method.
Follow the prompts to enter your unique 16 digit Flexepin number and the amount of cash you wish to transfer and click through to complete the transaction.
It's as easy as those three steps. Flexepin deposits are processed on the spot, allowing you to start playing real money roulette games straight away. Use the voucher to top up your account again at any time, or simply dispose of it once you've allocated all your funds and then buy a new one.
Benefits of Flexepin
The two major advantages of depositing with Flexepin are security and anonymity. These pre-paid vouchers work just like cash, so there's no chance of a third party intercepting your financial information, eliminating all risks of unauthorised transactions. It also means you won't have gambling related transactions appearing on your bank statement, which can be beneficial for a number of reasons.
Of course, with the good there comes some drawbacks, the main one being that if you lose your Flexepin voucher there's nothing you can do to get that money back, as it's basically the same as losing cash. Also, while Flexepin provides complete anonymity, it can't be used to withdrawal your winnings, so you'll still need to provide a roulette site with an alternative banking method when it comes time to cash in.
Keen to make a roulette deposit using Flexepin? Sign up for an account at All Slots where new players are eligible for up to $1,600 in matched deposit bonuses. All Slots offers a range of roulette variants, including live dealer roulette titles from Microgaming and Evolution Gaming.