For international players who only thought credit and debit payment methods were the only options available when funding accounts to play roulette online can be assured that there are many more payment options possible, including this virtual wallet.
Note: This page is intended for our international readers only from countries where online roulette and online gambling is permitted. In Australia, online gambling is illegal as of September 2017 following the introduction of the Interactive Gambling Amendment Bill 2016, so the content on this page is informational only for our Aussie readers.
Skrill online roulette casinos
Casino
Bonus
Games
Pokies
Signup
About Skrill as an online roulette deposit method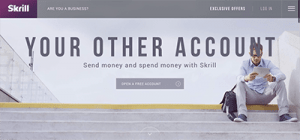 Skrill is incredibly popular due to its safety measures in place, the ability to transfer funds quickly all the while allowing players to make transfers via the Internet regardless of the platform.
Since the inception of e-Wallets, depositing funds via digital-only accounts to play roulette online has seemed desktop specific. However, Skrill has lead the way and also developed an application downloadable to a portable device so players can check their wallets and top up their Internet casino accounts on the go.
For players who aren't exactly sure what an e-wallet is, we have you covered, along with all the information you need about paying with Skrill when playing roulette online.
What is an e-wallet?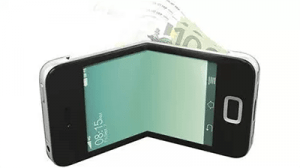 E-wallets, such as Skrill, are online accounts that require you to link a financial account with which is safe and secure and eliminates having to provide card or other financial information when funding your Internet casino account. This means you only need to give a casino site an email and password, or an account ID and security code depending on the e-wallet you are using, but Skrill uses the former option.
Skrill allows users to sign up, create a profile, link financial accounts (multiple are allowed) and pick this option when making a deposit. Although Skrill is a virtual wallet, it also offers a prepaid MasterCard so players can withdraw their winnings physically at an ATM – so if players are out playing via their mobile, they can withdraw safely to their Skrill account and then straight out via an ATM, instead of having to transfer back to the linked bank account and wait for it to process.
Skrill has been around quite a while, meaning it's a company well established and liked as a payment method by many international online roulette players.
How to get a Skrill e-wallet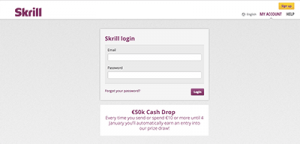 Although Skrill isn't nearly as popular as Neteller in terms of funding online casino accounts it definitely shouldn't be passed off, especially since it has additional features which Neteller doesn't. To sign up for a Skrill account, either download the app (read on to find out how), or go to their webpage via your desktop and click the 'sign up' link.
Fill out the sign up form ensuring you choose your local currency and that you have chosen a personal account and not a business account. Then click next and you will be taken to step two where you will need to enter an email address and create a password. It's important to enter an email address you regularly use as you will be asked to confirm the email address, as well as receive receipts later on via this account.
Once you have filled this out, a confirmation link will be sent to the email account provided and you will need to follow it confirm your Skrill account. Here you will then be able to enter your email and password you just created and you now have a Skrill e-wallet account.
To add a credit card or bank account click on the link that says 'Cards and Bank Accounts' and you will be able to do so here. You will need to provide proof of identity in order to verify your card before sending over $2500 which includes a copy of your passport, driver's license, or proof of identity card as well as a bill with a home address on it. Anything under this amount and you do not need to do this process, but it's recommended to do as soon as possible to save time in the future if you plan to regularly use this method.
How to fund online roulette with Skrill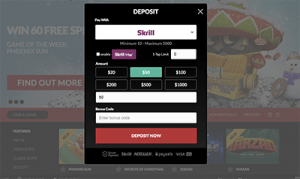 Playing roulette with real money require players to make a deposit. Doing so via Skrill is very easy once you know how. In order to fund your Internet casino account, go to the banking page and click the link to deposit. Many online casinos which target international players offer Skrill since it is a popular payment method across the world. Click on the link to deposit via Skrill and enter the amount you wish to fund your account with.
Skrill generally has a minimum deposit of $20 at most internet online casinos so you need to be prepared to deposit at least this amount. Press next and confirm once more to be taken to the Skrill website where you will be prompted to enter your email address and password – it's as simple as that.
Your funds will be processed into your online casino account fairly quickly provided you have enough money in your Skrill account.
Skrill vs Neteller
Neteller requires players to remember a random Account ID and Secure ID, as opposed to Skrill, which allows players to use an email address and a password of their choice, which is easily remembered.
Neteller is more experienced than Skrill but only by two years, with the company established in 1999. Skrill also doesn't charge a fee when users make a deposit from their bank account to their e-wallet, but Neteller charges anywhere from 1.5% to 7.5% of the entire deposit made.
However, it is important to note that they both don't incur a fee when making a deposit at online casinos and they both offer a prepaid MasterCard to withdraw physical cash from an ATM with. Neteller also doesn't have an app like Skrill does, so we are definitely leaning towards Skrill to fund out online roulette accounts with.
Skrill app for mobile deposits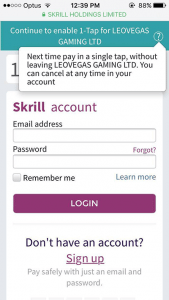 Skrill offers a native app which can be downloaded from your Application provider and sits on your home screen for convenient access. Users can register via this app or login using pre-existing details.
When you do login for the first time, you'll be able to create a five digit pin code to make it quicker and easier to log in via the app in the future. You will need to link an account via a desktop computer before being able to upload funds via the app, but once you have done that you can easily transfer money from your bank account to your Skrill account using the app. You can even withdraw from your e-wallet to your bank account via the app.
Players can easily fund their online casino accounts on their mobile with this method to make playing roulette on a mobile platform with real money incredibly easy.
Is it legal for Aussies to deposit with Skrill?
No, it is not legal for Australians to deposit money with Skrill for online roulette play because online gambling is banned under the Interactive Gambling Act of 2016, which went into royal assent in September 2017. Australians can only enjoy roulette at land-based casinos such as Crown Melbourne and The Star Sydney, which are properly licensed and regulated. The information on this page is thus relevant and intended for our international readers only.