ROULETTE is arguably the most popular table game for both land-based and online casino aficionados.
Because it is a simple game, it is one of the easiest casino games to both understand and play, making it an excellent choice for beginners.
There is no skill required when playing Roulette, with the game based on chance. Many people have devised strategies to increase their chances of winning, however there is no fool-proof way of beating the game, with players instead relying on luck to fill their pockets full of cash.
Playing Roulette – the basic things you need to know
Roulette is played using a giant wheel featuring the number 0-36 (some variants also have 00), with these numbers corresponding with the same numbers on a table.
Not only does this table include each number individually, it also has parts on the side which group together sections of the table based on the numbers, colour (red/black) and type (odd/even).
The basis of the game is to place your money, or chips, onto the number or section of the table you think will win. A dealer then drops a ball onto the wheel which spins around until stopping on a certain number, with the number the ball stops on declared the winner.
You can place as many or as few bets as you please, however the less specific your bets are, the slimmer odds you receive if you happen to win.
Types of Roulette bets
There are a wide range of bets you can choose when playing Roulette, all of which fall into two categories outlined below:
Inside bets:
These are the bets placed on the specific numbers on the 'inside' grid on the table. They include:
a bet on an individual number (odds of 35/1)
a bet on two numbers side by side (odds of 17/1)
a bet on three numbers together (odds of 11/1)
a bet on four neighbouring numbers (odds of 8/1)
a bet on six neighbouring numbers (odds of 5/1)
Outside bets:
These bets are placed on the designated areas on the outside of the individual numbers, with sections written on the table to indicate where to place your chips. These bets include:
Even or odd bet (odds of 1/1)
a bet on red or black (odds of 1/1)
a bet on high or low (odds of 1/1)
a bet on the row (e.g. 1, 4, 7. 10. 13. 16. 19, 22, 25, 28, 31 or 34) which can be wagered on by placing your chip in one of three boxes at the base of the table under numbers 34, 35 and 36 (odds of 2/1)
a bet according to sections of 12 (i.e. 1-12, 13-24, 25-36) which is represented to the side of each section on the table (odds of 2/1)
a bet on two neighbouring columns (odds of 1/2)
a bet on two neighbouring sections of 12 (odds of 1/2)
It is important to note that the 0 is also on the wheel, with the only way to win to place an inside bet on the 0 itself. Some variations of Roulette, as mentioned above, also include a 00 symbol, which increases the house-edge slightly.
Tips for playing Roulette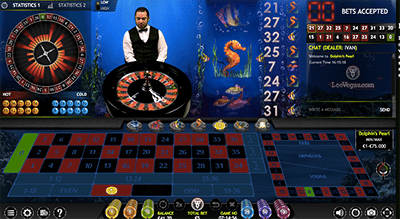 So now you know the basics of the game, sounds pretty simple right?
While it is a game based on luck, we do have a couple of suggestions to help you when playing Roulette with the aim of winning big.
Find a betting system which works for you: there is no way of guaranteeing a win playing Roulette, but there are ways of betting which are usually more profitable then throwing your chips randomly at the table. One such system is the Martingale Betting System which is based on the idea of starting with the lowest bet limit size at the table and placing your chips on an even-odds payout such as red-black. As you win, keep making the same bet but double your wager each time you lose. When you happen to win, you will be up by one betting unit, at which point you repeat the process by starting back at the lowest bet size.
Save your profits: It is a good practice to pocket half of everything you win. E.g. if you win $20, save $10 and don't bet it again – you are much more likely to end the game with a profit.
Go for European Roulette where possible: American Roulette features the 00 on the wheel which increases the house edge and therefore decreases your chances of winning.
Bet wisely: Don't bring $500 into the casino and place five $100 bets on number 17. Try to stick to realistic size wagers which pay even money. These include red-black, odd-even, high-low and they come with a percentage just over 47 per cent which is as good as it gets when playing Roulette.
Try a combination bet (e.g. colour/row): When looking at the Roulette table you will notice that the sections of 12 (i.e. 1-12) each have six red and six black numbers. However, when you look at the rows this is not the same. The first row has six of each, however the second row has eight black and four red and the last row has eight red and four black. An interesting strategy would be to place a wager on the middle or last row and combining that with a bet on the colour which appears most often in your row. If you win the 2/1 wager based on the section of the row, there is a high probability that you will also win the colour bet, whilst even if the number selected doesn't fall within your row, you are still looking at odds of more than 47 per cent that you will win the even money colour bet.
Where to play Roulette online
With the online betting world booming, there is an abundance of online casino operators willing to accept new players looking for a wager.
However, you must ensure the site you are playing with is reputable, so in order to help we have formulated a list of our top-rated online casinos.
Our recommended casinos all feature the highest standards of encryption software to protect your personal details at all times and they are all licensed and regulated to rigorous standards.
Additionally, you can also claim lucrative sign-up bonuses through each of our top picks, giving you extra cash to start out with as you start your betting journey.
Best roulette casinos
Casino
Bonus
Games
Pokies
Signup