Just as Android users take our devices seriously, so to do we see gambling as a sport rather than a past time.
That is why, when it comes to playing roulette on our Android smartphones and tablets, we need to know absolutely every detail. The team at Roulette.com.au has scoped out all the need to know information for Android users so we can focus on winning.
Real money roulette Apps for Android
Unfortunately, in some countries there are no real money apps available from Google Play to download to our home screen, regardless if we have a smartphone or tablet. This is primarily due to legislation preventing developers from creating these apps. However, in the UK and France players can find available apps.
Players also visit mobile casinos via mobile browsers, which is predominantly either Google Chrome or Firefox though others are compatible, and play real money roulette on their smartphones and tablets that way.
What sites offer real money roulette on Android
Australians looking for Android roulette will have to stick to free play apps, as the Australian government has banned Aussies from playing roulette online.
When it comes to international players and Android devices, we are still subjected to the same risks when entering our personal and financial information online, whether they be at gaming sites or not. This is why it is still incredibly important to play at mobile casinos which offer modern encryption to ensure our information is protected.
The following mobile casinos offer both top notch protection and a large selection of high quality roulette titles. These include:
Mac optimised roulette casinos
Casino
Bonus
Games
Pokies
Signup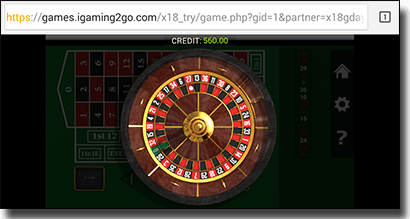 Recommendations from the team at Roulette.com.au
With so many options available for Android players it can be hard to know where to start. We have listed a few of our favourites so you can get started with some of the best Android roulette titles.
Royal Roulette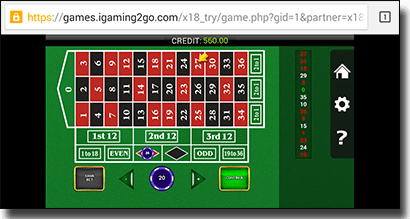 Royal Roulette has been created by iGaming2go and the best part about this game is you do not have to play it in landscape mode on your Android device which many other mobile games require. It is set on a green table layout, and it features a single zero, which is definitely preferred by the roulette player.
Players simply hold down the chip with their finger then drag it to the table on the bet/s they wish to make, including inside and outside bets. To view the odds, simply tap the question mark on the side of the screen.
Royal Roulette is available at G'Day mobile casino for the majority of Android devices.
NetEnt Roulette Touch
Featuring European Roulette on a blue layout, NetEnt's Roulette Touch does need to be played in landscape mode, and if you slide up too far it tells you to slide back down, but it doesn't take long to master.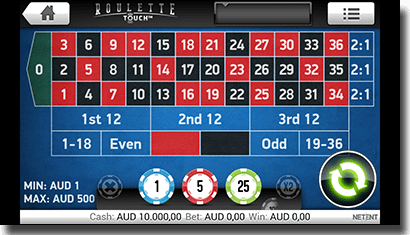 The best part about this mobile roulette title for Android devices is the graphics, as when you spin the wheel you can see how high quality they are, and the sounds are quite realistic too. Everything runs very smoothly regardless if we are playing on our smartphone or tablet.
Players can either select where to place the chip/s on the layout and then the chip amount, or they can drag the chip to the layout, either method works to place a bet. Additionally, players can easily double their bets or remove any chips without problem if we have changed our minds. There's also a 'quick spin' option if you aren't one to watch the wheel, as well as an 'auto-play' option if you don't want to keep tapping on the spin button.
The pay table can be accessed by tapping on the three lines icon and then by tapping on the three lines with the dollar sign icon, but be careful when you are reading as scrolling upwards causes the screen to freeze until you slide back down.
Android players can try Roulette Touch at both G'Day and Guts Casino.
European Roulette Gold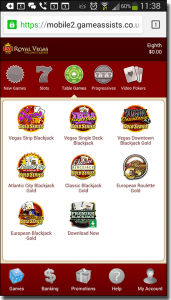 This Microgaming roulette title available for Android devices is perfect for high rollers on the go. Mimicking the European Roulette Gold title available on desktop, this mobile version has a blue-grey layout with simple graphics.
The wheel is quite appealing though and when you do spin a lady reads the results aloud, to make you feel as though you are playing a live dealer title.
The best thing about this title ,which will appeal to high rollers, is that there isn't really an overall maximum limit on the table. There is a maximum on a single bet, for example $100 on any number is the maximum. But you can place a $100 chip on every single number if you wish, as well as more chips on outside bets.
The betting range is rare for a mobile roulette title so if you have an above average bankroll, try out this title.
You can play this title at Jackpot City, Casino-Mate, All Slots, and Royal Vegas.
We also recommend checking out all of the aforementioned live dealer titles at Guts as they are all are regularly played by the team here at Roulette.com.au.
Deposit options for Android roulette players
There are a number of Android-Friendly deposit options available for roulette players and include;
Visa, MasterCard, Maestro debit and credit cards
Neteller
Skrill and Skrill 1-Tap
Ukash
Paysafecard
Instant Banking
ClickandBuy
Simply tap on the banking icon of the mobile casino you're playing at, and you'll be able to follow the prompts to fund your account and get playing real money roulette on your Android smartphone or tablet device.
How to play roulette on a Samsung tablet
Note: Australians can no longer gamble online at casinos and this page should therefore be used as an informational source only.
Roulette works the same way on any Android smartphone and tablet but we have decided to use the very popular Samsung Galaxy tablet as an example of how to play roulette on Android devices.
Tap the link to one of our recommended mobile casinos via your preferred mobile browser. Once you've entered one of the mobile casinos, either use your login details you have created at this site on the desktop version, or sign up, which doesn't take too long and can be easily done with a few taps. Once you have logged in you can make a deposit to fund your account so you can play roulette with real money. There are an array of Android-friendly payment methods that we list below.
After you have funded your account you can tap back to 'Home' and navigate around the mobile casino by tapping and scrolling. For mobile sites, the roulette is generally grouped in with the 'Table Games'. Tap on a title of your choice and you will be able to get playing.
Players make bets by tapping and dragging their chips, as well as tapping the 'Spin' button or the button that has two arrows pointing in a clockwise and anti-clockwise direction depending on the game, when they are ready to play.
This overview has been for standard titles of roulette, with multiple variants available as listed below. However, there are also live dealer roulette titles available to play on Android devices.
The best part about playing on an Android tablet over a smartphone however, is the screen size, and the bigger the better when playing roulette, or any casino game for that matter.
Live dealer Android roulette
Live dealer titles are a social and unique way to play roulette from the comfort of your home but by implementing them on a mobile compatible platform the meaning of live dealer is taken to a whole new level. We can now take a human dealer anywhere we go and play roulette, with a human determining the outcome as opposed to a computer.
For the best live dealer roulette for Android devices, Guts mobile casino is the way to go. This is because Guts utilises Evolution Gaming, a software developer which not only creates top class live dealer titles, including a range of live dealer roulette variants, but also creates these for the Android smartphone and tablet platform.
Evolution live dealer roulette for Android
Evolution live roulette catalogue features more than just one or two available titles, rather there are five live dealer roulette tables available for Android players. These include;
Immersive Roulette
Roulette
VIP Roulette
Auto-Roulette
VIP Auto-Roulette
Evolution includes one and sometimes two male or female attractive live dealers which are incredibly chatty to create a genuine social ambience. The variants available for mobile devices mean you aren't just stuck with one live roulette title, but a selection to suit every roulette player.
There is also a chat box where you can talk to other players the dealer/s and the mobile play sees a full screen HD quality experience on your smartphone or tablet.
The available Android smartphones and tablets compatible with Evolution live dealer roulette includes;
Samsung
Google Nexus
Sony
Samsung Galaxy
HTC
Google Nexus
LG