Marvel Roulette is one of the most unique roulette variants you'll find on the Internet, featuring all the characters from your favourite Marvel comics including Spiderman, Wolverine and The Incredible Hulk. Discover more about this entertaining game from Playtech and the best places you can play for real money bets using Australian dollars.
Marvel Roulette overview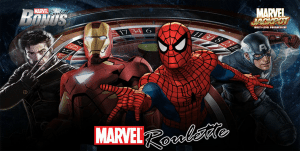 Marvel Roulette follows the classic format and rules of European roulette, but it's packed with superheroes from famous Marvel comics and all kinds of bonus features you won't find in a standard roulette game. It uses a single zero roulette wheel and follows the standard betting table, layout, odds and bet types offered in European roulette, with the addition of a Marvel Bonus position on the wheel and betting table.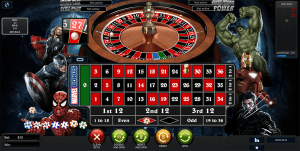 Like any roulette variant, this is a luck based game, where the aim is to place a wager on where you think the ball will land on the roulette wheel. Marvel Roulette offers all the usual inside and outside roulette bets like straight up, street, odds/evens, red/black and so on.
Other than its fun design which features superheroes from the X-Men series, Captain America, Iron Man and more, the real drawcard to Marvel Roulette is that it offers a unique Marvel Bonus and the Marvel Progressive Jackpot, which we explain in detail below.
Marvel Roulette Bonus
To the left of the green zero on the betting table, you'll notice a betting space for the Marvel Bonus. If you place a bet on this and the roulette wheel comes to a rest on the Marvel Bonus position, you'll be taken to a separate bonus round, which is a three-reel pokies game that awards you three spins.
The object of this bonus slot game is to line up three matching Marvel character symbols across the reels. Line up three of these symbols to win a multiplier of your current active bet:
Spiderman = x100
The Incredible Hulk = x50
Iron Man = x25
Wolverine = x20
The Fantastic Four = x15
Captain Marvel = x10
Captain America = x8
Ghost Rider = x5
While this bonus features adds a lot of excitement and winning potential to Marvel Roulette, keep in mind that the odds of triggering the Marvel Roulette Bonus are 36 to 1.
Marvel Roulette Mystery Jackpot
Marvel Roulette is one of the only roulette games at our recommended casinos that carries a progressive jackpot (which is a jackpot that increases any time a real money bet is placed on a game within the linked network). What's even more interesting is that this progressive isn't just linked to the Marvel Roulette game, but to all Marvel games within the Playtech repertoire, including Marvel pokies.
A small percentage of each bet played on any Marvel game is added to the four Marvel progressive jackpot pools, which can be triggered completely at random in any Marvel game after any winning or non-winning spin. The base jackpots for each are as follows:
Power Jackpot – starts at $50
Extra Power Jackpot – starts at $500
Super Power Jackpot – starts at $5,000
Ultimate Power Jackpot – starts at $100,000
When the jackpot bonus is triggered, you'll be taken to a new screen containing 20 face-down squares. Click to reveal the jackpot value of each square until you match three jackpot symbols, winning the corresponding jackpot. Entering the jackpot game guarantees a win of one of four of the mystery progressive jackpots. While this bonus is awarded at random, your chances of triggering it increase depending on the size of your wager.
Marvel Roulette payouts
Marvel Roulette comes with a maximum bet of $50.00 per spin. The payouts are similar to European roulette rules:
Marvel Bonus – pays between 4 to 1 and 99 to 1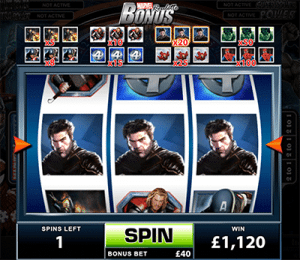 Straight Up – pays 35 to 1
Split – pays 17 to 1
Street – pays 11 to 1
Corner – pays 8 to 1
Line – pays 5 to 1
Column/dozen – pays 2 to 1
1-18 – pays 1 to 1
19-36 – pays 1 to 1
Red/black – pays 1 to 1
Odd/even – pays 1 to 1
Where to play Marvel Roulette
Playtech roulette games are only available at one of our recommended casinos, Casino.com. There you can play Marvel Roulette directly over your Web browser, or if you own a PC you can choose to download the exclusive Casino.com software. Read our full comprehensive Casino.com review for more information.
Marvel Roulette can be played for free in demo mode so you can get a feel for the game before committing to a real money wager, with AUD deposits available in a range of trusted payment methods. Note that you'll need to be playing for real money in order to play for the progressive jackpots.
Sign up to play Marvel Roulette at Casino.com and receive double the amount of your first real money deposit up to a value of $400