Pinball Roulette combines your favourite casino game with your favourite arcade game, resulting in an entertaining hybrid roulette variant which adds a lot of fun to classic roulette gameplay. Find out how to play Pinball Roulette on the web.
Note: Australians can no longer legally gamble online at casinos due to the Interactive Gambling Amendment Act 2016. This page is therefore an information source only for Aussies.
Roulette casino sites
Casino
Bonus
Games
Pokies
Signup
Pinball Roulette overview
When you first bring up Pinball Roulette, it more or less looks like any other standard version of European Roulette, except neighbour bets are spread across the bottom of the screen and there's also no roulette wheel to speak of.
Once you've placed your betting chips on the table, you'll understand what makes this roulette game truly one of a kind. You'll be taken to a separate screen where instead of a roulette wheel, there's a pinball machine where the ball shoots out before landing in a random, rotating number slot at the bottom of the game. The idea is the same as any other roulette game, only instead of the ball coming to a stop in a pocket on the wheel, it bounces around through the pinball machine first before landing in a numbered pocket to form the winning number.
Pinball Roulette comes with a minimum bet of $2.00 and a maximum bet of $2,000, making this suited to recreational players and high rollers. The theoretical RTP (return to player) is 97.30%.
How to play Pinball Roulette
Playing Pinball Roulette is easy and requires no specific skills or prior knowledge of the game to play. Once you've signed up for an account at a reputable online casino offering this game – we recommend Casino.com – just make an instant deposit using a trusted payment method like Visa, MasterCard, Neteller, Skrill or Paysafecard and load Pinball Roulette directly over your Web browser then:
[/rm_geo_hide]
1. On the bottom left hand side of the game window, click on your desired betting chip to select the value of your bet. You must bet at least $2.00.
2. Move the chips to your chosen place on the betting table.
3. You can place multiple bets at once, just look at the 'stake' field to check the total value of your bet.
4. Click the 'bet' button to confirm your bet and launch the pinball screen.
5. Watch as the ball bounces around the pinball field before landing in a pocket and declaring whether or not you're a winner.
Pinball Roulette gamble bonus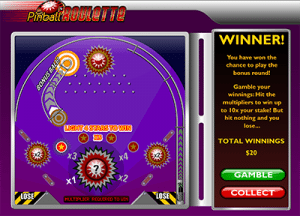 If the pinball lands in a winning pocket, you'll be presented with the option of playing the bonus round. Click 'gamble' to play or 'collect' to take your winnings and bail.
The bonus game works just like the gamble feature in a pokies game, giving you the chance to increase your winnings while also running the risk of losing them completely. If you choose to play, the pinball will be launched into the playing field and you need to hit at least one multiplier before the ball falls outside of the field. This gives you the chance to win up to 10X the amount of your original winnings. However, fail to hit a multiplier and you'll lose it all.
Pinball Roulette payouts
The amount you can win in Pinball Roulette depends on the size of your wager. When placing your bets, hover over any of the spaces on the betting table to see the maximum bet allowed for that particular bet, along with its payout potential. Some numbers will only allow a maximum of $100 per bet, while others can go as high as $2,000.
The payouts for Pinball Roulette are as follows:
Straight Up – pays 36 to 1
Split – pays 18 to 1
Street – pays 12 to 1
Corner – pays 9 to 1
Line – pays 6 to 1
Column/dozen – pays 3 to 1
1-18 – pays 2 to 1
19-36 – pays 2 to 1
Red/black – pays 2 to 1
Odd/even – pays 2 to 1
Where to play Pinball Roulette
Pinball Roulette is a rare find when playing online and off. Unfortunately, this means Australians are unlikely to play it but international players, including New Zealanders, can enjoy it online.
We've saved you the search and can let you know that Pinball Roulette is available at
Casino.com
, one of our top-rated online casinos for real money roulette. Pinball Roulette at Casino.com can be played directly over your Web browser, or if you're using a PC, you can opt to download the premium Casino.com client if you prefer.

Casino.com happily accepts several currencies using such trusted payment methods as Visa, MasterCard, Neteller, Skrill, Paysafecard and EntroPay. You'll also find a bunch of other unique roulette variants here, including Marvel Roulette, 3D Roulette, NewAR Roulette and all the classics like European, French and American Roulette. Pinball Roulette can be sampled for free in practice mode first so you can get a feel for the game before handing over any of your own money.
Want to play Pinball Roulette for the chance to win real money? Sign up to play at Casino.com and receive a 100% matched deposit bonus up to $400 when depositing real cash to your account for the first time.