A split bet in roulette is a tempting option given that it pays 17 to 1, but with rewards that sweet it's only natural that splitting numbers is going to hurt your odds.

Roulette casino sites with best odds
Casino
Bonus
Games
Pokies
Signup
In this inside bet option, players place a wager on any two numbers that lie adjacent on the roulette betting board. The numbers can be either horizontal or vertical as long as they are directly side by side (for example, four and five, or five and eight).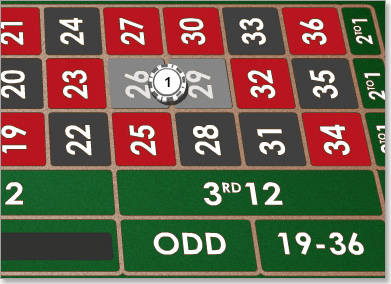 It's incredibly easy to place a split bet, all you need to do is move your betting chip onto the line separating the two numbers you wish to bet on. Players can place as many split bets per spin of the roulette wheel as they like.
For example, you can split your bet by placing your betting chip on the line between both eight and nine. If the roulette ball lands on either of these numbers, you are a winner. A split bet ultimately doubles your chances of winning compared to a straight-up bet (which is where you bet on one number exclusively), however it also halves your payout if you do win.
Odds & payouts for split bets
The payout for a winning split bet is the second most lucrative wager available in a roulette game, with enticing odds of 17 to 1. The only side bet higher than this is the straight bet which pays a massive 35 to 1 but also comes with the lowest probability of winning. Refer to our detailed roulette payout table for further details regarding all betting options.
Your odds of a win when placing a split bet depend on whether you're playing American roulette or European roulette. American roulette has the addition of a double zero on its wheel, as opposed to the European single zero wheel, which makes the house edge in American roulette almost twice as high. As with all other roulette strategies, your odds are always better when playing European roulette so if you have the choice between the two, always go for the European version.
Your odds on winning a split bet in European roulette = 5.41% (17.5 to 1)
Your odds on winning a split bet in American roulette = 5.26% (18 to 1)
The house edge on a split bet is the same as the house edge on a majority of all other roulette bets:
House edge on a split bet in European roulette = 2.70%
House edge on a split bet in American roulette = 5.26%
These odds show us not only that European roulette is highly preferable but also that placing a split bet will hurt your odds. Players who want the best odds to make the most of their bankroll or extend their playing time should stay away from splitting numbers and focus on more lucrative inside and outside bets. The rewards may not be as grand, but you'll stand a higher chance of winning. Naturally, those looking for the big cash wins will be drawn to splitting numbers, but should keep in mind that the odds are against them.
It's easy to see just how low the probability of winning a split bet is, with much better odds available elsewhere within the game. Recreational roulette players who are just in it to have fun are better placing simple bets like Odds & Evens, or Red & Black. Although the payouts are only small (1 to 1) your chances of winning are much higher than splitting your numbers, while still allowing for some decent wins and exciting game play.
Play roulette online
If you want to try your luck at a split bet, or simply want to play around with this inside betting option before committing to a real money wager, there are a range of fantastic online casinos that offer top of the range roulette games in practice mode for free. This is the perfect way to familiarise yourself with the difference between European and American roulette and see for yourself how your odds are impacted when placing a split bet.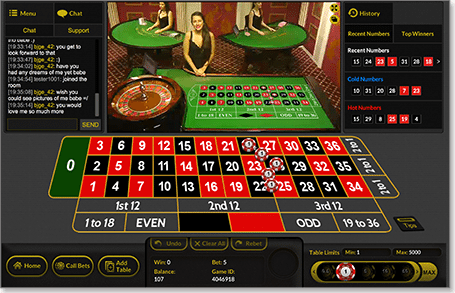 Once you're ready to take the plunge, online roulette can be played for real money using a range of secure payment methods at some of the world's best virtual casinos. Our recommended online roulette venues offer new players a range of welcome bonuses to boost their account balances, so take advantage of these generous offers and increase your chances of winning real money in online roulette.
Most of our recommended casinos also have Live Dealer roulette available which has proven to be a hit with iGamers. This means you can see the action unfolding on your computer screen or smart TV as it happens, interact with other players and play low and high limit games.
And of course the casinos that we endorse all cater for players from many countries. This means they have plenty of deposit options including debit and credit card and other options like local bank transfers.