Roulette is the classic casino game for good reason. Its iconic little wheel is synonymous with the opulence and 'big night out' vibe of a casino, its game-play is simple and welcoming for new players and regulars, and it's generally one of the best games to play with good company.
Recommended online roulette casinos
Casino
Bonus
Games
Pokies
Signup
[/rm_geo_hide
Alongside intense hands of Blackjack and focused rounds of Poker, sometimes it's nice to play something a little more straightforward and leisurely. Universally, roulette is the casino game for every type of player, and here's why it's my favourite game to play.
Bankroll and Betting Flexibility
The great thing about roulette is you can approach the table and play any way you like depending on your mood. Games like blackjack or poker require deeper concentration and thinking and aren't known for their pick-up and bet game-play. Sometimes it's just nice to let loose and place a few casual bets over some drinks with friends, rather than going all-out with strategy or high-stakes wagers.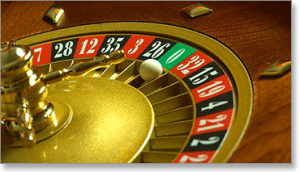 But the other great thing about the little wheel is it's also welcoming to those who want a bit more structure in their bets. When I've felt like following set betting patterns such as the Martingale or D'Alambert but then fall back to less complex wagers, I can do so within two spins with zero hassle.
The same advantage applies for bankroll sizes. No matter if you're a V.I.P. or a low-stakes player, roulette generally caters better to most players than other table games, with $2.50 minimum inside wagers and $5 outside bets. This gives greater control to me as to how much money I'd like to gamble with on a given day, and also lets me play longer with a smaller amount of cash.
Leisurely Gameplay & Straightforward Rules
Roulette is easy-to-understand for newcomers and veterans alike. When I was just starting out, it immediately became my preferred game because I could control the pace in which I played, and I never felt pressured or worried to take my time as no other player's bets are affected by my own.
The rules of roulette are also so easy most players can learn just by observing a few spins first. It isn't intimidating as, say, blackjack or poker. If you're a hands-on type of person like I am, there's always a helpful croupier or friendly company to teach the basics whilst you place your first few wagers.
The random spin of the wheel means this is a game based solely on chance and luck, not individual player skill, and that certainly appeals to all kinds of players in all kinds of moods. There's less pressure on your betting performance on one spin to the next, because it's entirely governed by luck – and our luck can change anytime.
Not Too Many Variations
Roulette is one of the most accessible casino games because there isn't an overwhelming amount of variations or casino-special rule-changes. Beginners and experienced gamblers can easily identify which table has an American or European layout (one-zero or double-zero), if the ruleset includes the extra special French variation rules (La Partage) or what the minimum inside and outside bet is (usually $2.50 and $5, respectively).


I love playing card games like blackjack as much as anybody, but when there's seven different rulesets in the same room, it does get confusing and frustrating because I just want to jump in and play without having to research what rule changes are the most player-friendly. With roulette, there's only a handful of significant variations players need to watch out for before playing.
The Social Element
Most people will agree that roulette is best played with friends on a big night out. The amount of times I've made winning wagers (as well as a few fun but silly bets) with good company is beyond count, and there's just something about the added social atmosphere and interaction with other players that makes the game even more enjoyable.
The fact that your betting performance doesn't directly impact a friend's chances – unless you constantly goad them into putting it all on Red like I do – nor does your own pace affect others means it's the quintessential social casino game for social groups with all types of players. Having friends around can also help players less impulsive when we're not going too well, which is always helpful – especially when my 'all on red' strategy isn't working so well.
Other popular games in a live casino like electronic pokie machines don't provide the same social element, and it's not something to be disregarded when accounting for Roulette's many other strengths.