The Adelaide Casino is one of the true drawcards in the picturesque state capital, known as the City of Churches.
The casino is located in a disused part of the heritage-listed Adelaide Railway Station building on North Terrace, in the city centre. It opened its doors in 1985 with the gaming licence held by the Lotteries Commission, who asked Aitko PTY LTD to establish a casino on its behalf.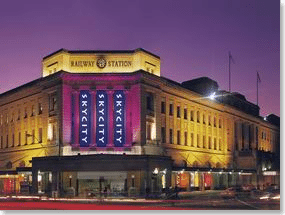 The casino, which became part of the Skycity Entertainment Group in 2000, has over 100 gaming tables and 1000 gaming machines, as well as several bars, function areas and restaurants.
The company is the 10th largest employer in Adelaide and contributes around 30 million into South Australia's economy each year through the employment of 1000 staff, as well as paying upwards of 20 million in state taxes annually.
Gambling at the Adelaide Casino
The Adelaide Casino has expanded significantly since its humble beginnings and now has a huge range of the latest slot machines, and many old favourites. On top of that it holds the only gambling licence which allows table games in South Australia, boasting all of your casino classics like roulette, blackjack, poker and baccarat.
Roulette
The Adelaide Casino has three different types of roulette, these are European, American and French roulette. These three version of the great game are all very similar but just have different house edges. There are tables which have limits as low as $5, while the casino also caters for high-rollers.
An electronic version of roulette, called Rapid Roulette is also available to play at the Adelaide Casino. With Rapid Roulette you have a touch screen terminal connected to a live roulette wheel. So like a normal game of roulette you place your bets on the inside and outside of the table layout on your screen. When the wheel has been spun, any winnings will be displayed on the screen before the total is added to your existing credits. This game offers players a bit more privacy and lower bet limits.
Skycity Entertainment Group
Adelaide Casino is part of the Skycity Entertainment Group, which also controls casinos in Darwin and New Zealand (Auckland, Hamilton and Queenstown).
The company holds monopoly casino licences for its casinos, meaning they are the only place in their respective cities where you can play table games.
Skycity also owns many prominent restaurants and entertainment venues across Australia and New Zealand.
The company, which has its head office in Auckland, employs over 3400 people in New Zealand and Australia and is publicly listed on both countries stock exchanges.
Getting to the Adelaide Casino
Adelaide Casino is in a very convenient location with it situated above the Railway Station, on North Terrace in the heart of the city centre.
The Adelaide Airport is roughly a 15-minute drive from the casino and will cost around $30 in a taxi.
Most buses in Adelaide terminate on King William Street, which is 100m from the casino. The trams, which run from the city to Glenelg, also terminate near the casino.
Adelaide Casino Opening Hours
Adelaide Casino is open 24 hours a day, 7 Days a week (closed Christmas Day and Good Friday).
The first floor gambling area is open from 11am-4am seven days a week.
Each individual outlet at Adelaide Casino has its own opening hours, so be sure to check their websites for further information.