With five separate bets inside the layout on European roulette, six inside bets on American roulette and eight different outside bets on both versions, it is easy to see how roulette can be a little daunting to first time players. If you are new to the game and looking to win big fast, the single bet with the greatest odds on the entire layout is called a straight up.
Recommended online roulette casinos
Casino
Bonus
Games
Pokies
Signup
What is a straight up?
A straight up bet in roulette is a single bet on one single number on the layout. This is made by placing a chip on the corresponding number on the layout that you think will spin up. A straight up pays 35:1, which is why it is such a popular bet.
When playing in a bricks and mortar casino, you must do the following before you place your straight up wager:
1. Wait until the dealer announces "place you bets".
2. Make sure when you are placing your chip it doesn't touch any of the lines around your chosen number.
3. Also make sure the chip sits squarely in the centre of the chosen number.
4. Wait until the dealer sweeps their arms across the layout and says "no more bets".
5. At which point, you must pull your hands back from the layout.
The rules for placing an online bet are much the same. From here, the ball will come to a stop and the dealer will announce the winning number and clear all of the losing bets from the layout.
When playing roulette online, all you have to do is create an account with the Internet casino of your choice, choose which roulette game or derivative you want to play and get started.
To place a straight up bet on an online roulette table, simply click on the number on the virtual layout that you want, sit back and wait for the result. All bets will be paid to or taken from your casino account accordingly.
What are the odds for a straight up?
The return on a straight up bet is 35:1. Your chances of hitting a straight up depend on which version of roulette you are playing.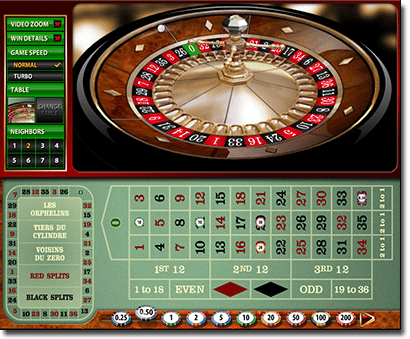 European roulette: Also known as single-zero roulette, your odds of hitting a straight up on any given spin are 1:37 – the 36 numbers on the layout and the zero. Single 0 roulette has an house edge of 2.7%.
American roulette: Also known as double-zero roulette, your odds blow out to 1:38 to hit a straight up. This is due to the fact the added "00" to the wheel is another number. The winning return of 35:1 remain the same on American roulette despite this extra number, which sees the house edge blow out to 5.26%.
Should I place straight-up bets in roulette?
Going on the house edge and the fact on single 0 roulette you have a 1:37 chance compared to the 1:38 chance offered by American roulette, it should be plain to see that single 0 – or European roulette – is the smart option.
It doesn't matter whether you are playing online or at a bricks and mortar casino: single 0 roulette is the smart choice when playing roulette in general, especially when you are playing straight ups.
Try out and practice straight-up bets at G'Day Casino, one of our top-recommended roulette sites, and receive up to $1200 in bonus bets to kick you off before wagering real money.