This article is tinged with humour and meant for entertainment purposes, but also puts forward some key points as to why playing casino games with an online gaming site is of better value for players than gambling at a traditional brick-and-mortar casino.
Recommended online roulette casinos
Casino
Bonus
Games
Pokies
Signup
[/rm_geo_hide
Usually when you think of a casino you conjure up a mental image of bright lights, attractive people dressed to the nine's, good natured dealers and walking away with a pocketful of cash.
Sadly though, the reality is usually a little more grotesque.
You're often crammed on a table by a gang of tattoo-sporting drunkards yelling and yahooing at a dealer who seems to be quietly reciting some sort of voodoo death spell under his or her breath.
Sometimes, being at the casino can quickly turn to a nightmare – you lose money, feel duped by paying $50 for a lousy seafood buffet (that you're positive will come back to haunt you) and are eventually frog-marched out by some unhinged, 'roided up security guard who looks more dangerous than the three bikies that just walked past.
So here at Roulette.com.au, we have a look at the top five reasons online casinos like Royal Vegas and Guts are superior to traditional casinos.
You can avoid these types of people when playing online:
1: You don't have to encounter any dealers.
This is a big one, because as a tribe, dealers are a peculiar mob. Easily offended, quick to anger and openly hostile, they can be a tricky time bomb to decipher.
Sometimes, the most innocuous comment can set them off in to a passive-aggressive tail spin and let me tell you: there's little else worse in this world than sitting at a table with a dealer grinding their teeth and staring daggers at you. Even their wretched mood can seems to taint the cards – their aura of scum infecting the cards.
With an online casino – unless we specifically choose to play live dealer games, where croupiers appear much calmer, relaxed and friendly anyway (largely because they aren't working with players face-to-face), the dealer is taken out of the equation, and we play with random number generator (RNG) technology. Play at home without the fear of upsetting one of these megalomaniacs. No uncomfortable silences. No dirty looks. No judging comments. Just serenity.
2: No other punters.
Let's get down to brass tacks: other punters are weird, rude and can often be heavily intoxicated while at the casino. Nothing sours a winning hand more than being thrown up on by the drunkard next to you. Other punters can even grow aggressive if they get it in their head you somehow affected the game.
Did you sneeze just before the ball dropped on roulette?
You mongrel!
Did you hit when you should have stayed?
You mongrel!
At gaming sites, you remove yourself from the loathsome attitudes of other punters. You can play your own style of game without fear of being abused by an 88-year-old woman with a goatee. Peace and freedom.
3: Improved odds.
Another magical point about online gambling sites is they offer above average or discounted odds. For example, some have a less than 5% commission while playing Banker bets in baccarat, pokies payout percentages can be as high as 98% and French roulette games offer la partage and en prison rulings to reduce the house edge to 1.35%.
There are so many different variants of online blackjack, too. Play with a single deck of cards (something almost impossible in Australian casino's), enjoy double exposure games (see both of the dealer's cards), choose between the American (hole card) or European (no hole card) format, and reduce the casino's edge to less than 1%.
Every Web casino has their own rules and variants for each game – look around to find the best odds playing options to suit you. All the sites we endorse also promote significant Australian currency welcome bonuses and deposit bonuses.
4: No mistakes or disputes.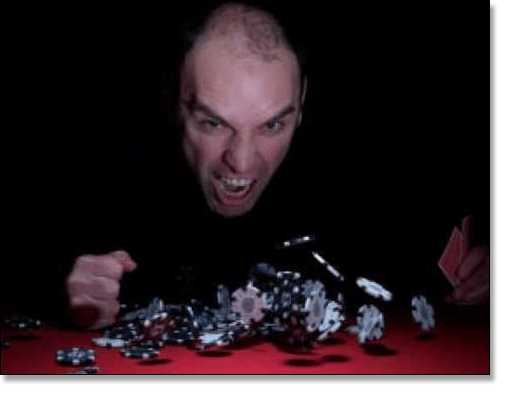 Some dope, too drunk to remember which bet they placed, kicks up a stink. They start claiming your bet. The dealer, naturally, has this deer-in-the-headlights look slapped all over his or her face. Then the dealer informs the floor manager of the dispute. Your bet is being claimed by some vile drunk. So the whole situation is referred upstairs to the video ref. This process can take anywhere from five minutes to half an hour depending on how busy things are. In the meantime though, your money is off-limits until the video ref comes back with a decision.
Online, there is no chance of an over or under payment when playing games powered by RNGs. Human error is removed from the equation.
If a dealer short changes you and you pick up on it, we need to go up to the video ref for another five to 30 minutes. In the meantime, the dealer is stunned you had the audacity to challenge their authority.
If, by some miracle, a dealer makes a mistake in your favour, often the video ref is usually on the blower to the pit boss in two shakes of a lamb's tail. Then the pit boss, or their blunt instrument, the floor manager, starts hanging around you like a bad smell. They're polite, sure, but they're still asking you for money back.
They want money back?!
The absolute gall of these scoundrels. The amount of cash you've pumped in to this joint and they come to hassle you over $25 they over-paid you.
5: Comfort and convenience.
Online casinos are so easily accessible these days you can have a punt from your home computer, your smartphone, tablet or any other data-enabled device such as a smart-TV.
How can you beat that?
When you go to an actual casino, you have to worry about parking – which can end up costing you an arm and a leg – or you have to worry about traversing public transport. All of this is avoidable with online casinos.
There are five reasons to give Internet and mobile casinos a try before subjecting yourself to brick-and-mortar gaming establishments.